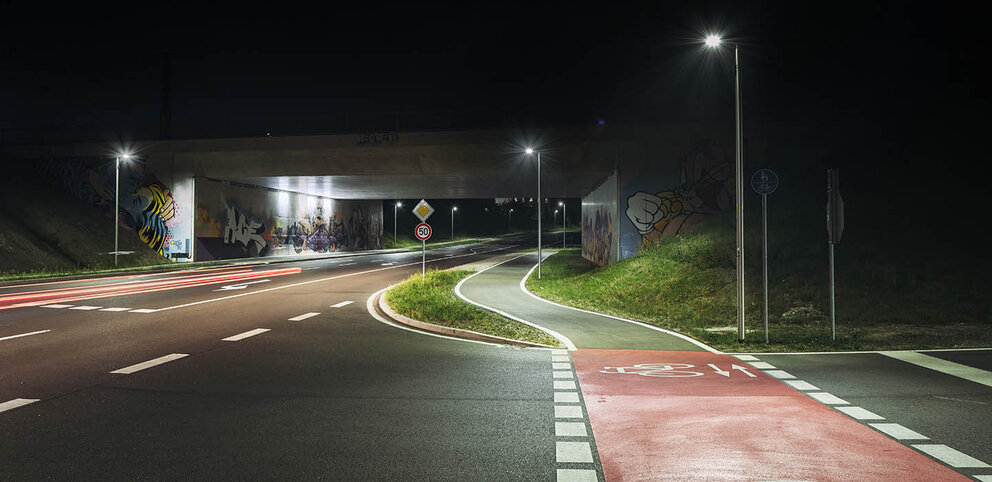 Future
City.
Lighting for the city of tomorrow.
It is not without reason that people refer to "city lights" when describing the special appeal of urban spaces. SITECO solutions makes cities and communities even more livable. Thanks to efficient, connected and sustainable lighting solutions.
Cutting costs is the top priority for many municipalities. Yet 80 % of street lighting in Germany is still conventional. Even though LED lighting can yield energy and CO2 savings of up to 80 %. One thing is certain: There has never been greater social responsibility for the sustainable use of our resources. Sustainable investments are therefore necessary – and feasible.
The future is digital – and the same goes for lighting. It is therefore not enough to consider light in isolation. It is part of a connected infrastructure and the foundation for Smart City applications. That makes it all the more important to create structures that are as flexible, open and future-proof as possible. What's more: no town, city or municipality is like the other. Local conditions vary by nature.
Whether or not residents find a city attractive depends largely on its appearance. Light adds value, creates atmosphere and is part of effective city marketing. But only spaces that feel safe and secure can also be considered attractive. With good visibility, there are fewer accidents. In bright areas, dark figures don't stand a chance. And just as important: the right approach. Because light pollution and wasted energy must be avoided.
SITECO outdoor luminaires are intelligent. New robust functions perfect the nervous system, delivering phenomental talent! We´re sharing our compelling technology to inspire you to take this quantum leap. Because this will lead your city into the future.
Maximum convenience and still fit for the future – do your iQ check now.
Future proof for beyond tomorrow.
Light has to satisfy many masters: environmental and insect protection, traffic, residents. Plus the additional standards on top. With iQ you simply adjust the light colour, distribution, dimming and luminous flux. We offer a 20-year delivery guarantee.
Sit back and relax! The autopilot's engaged.
Your luminaire can do a lot by itself: Night-time reduction, temperature monitoring, weather-dependent light distribution and switch-on surge interruption – the important daily tasks.
Install on the fly.
Program new luminaires? Really easy to do in the warehouse with no tedious unpacking. Or conveniently on the street after installation – without needing a cherry picker.
Replace the ECG - faster than in Formula 1.
When the ECG learns on its own, replacement takes 2 minutes, not 2 hours. And the complexity around spare parts plummets.
Using our standard, you can efficiently operate your outdoor luminaires for many years as well as conveniently maintain and intelligently upgrade them.
It's a joy to pay less for better light.
Sustainability pays off, especially when it comes to the modernization of public lighting. While in use, every hour of operation saves CO2 and energy costs. Design for Sustainability – SITECO's design principle naturally includes long-lasting efficient premium LEDs with thermal management and high-precision lighting technology. Perfectly coordinated with one another for maximum performance. The city of Sulzbach-Rosenberg plans to convert 90 % of its street lighting to LEDs.
The result of the investments: a 70 % reduction in CO2.
Intelligent control generates potential: Less power consumption and light pollution due to controllable dimming and switch-off functions. Greater safety and protection from vandalism thanks to presence sensors. SITECO Connect gives you solutions tailored to your needs: From plug&play motion sensors as an independent controller to a fully connected telemanagement system.
SITECO Connect is your foundation for the urban services of the future.
Smart City also means smart investments. Cost savings in the TCO period are often upward of 50 %, because the best product for your requirements has a dramatic impact on your future operating overheads. We are also pleased to offer light as a service for our customers. In such cases, we bear the investment costs and risks ourselves. And always select the best product for you.
SITECO enables pilot projects or a major step.
A product's sustainability begins with its production and ends with its disposal. This is why SITECO follows energy-optimized manufacturing practices for its outdoor luminaires in Germany – one more advantage of Made in Germany. The sophisticated design principle is the basis for a sustainable recycling economy with an extremely high recycling rate yielding up to a 90 % return on investment.
Putting a true recycling economy into practice.
iQ App is our three-step solution for your inventory and system management and enables simple commissioning and management of your luminaire infrastructure. That means: Simple setting, diagnosis and management. This saves you time, ranging from commissioning the luminaires to taking stock of your inventory. Extensive diagnostic data support you in optimizing internal processes and streamlining workflows.
Managing data doesn't have to be complicated.
Technology that fights light pollution
Your television isn't the only device that can do HD; SITECO luminaires can, too. The high-definition faceted reflector in our road luminaires is the measure of all things for optimum light on your streets. And the globally unique special-process silver coating brings out even more efficiency.
Light can be really good.
CLOi
Luminous flux tracking is nothing new in itself. But: Until now it was based on predefined laboratory values with a constant room temperature of 25 °C. Where does that exist? This is precisely why, with its patented CLO 2.0 control option, SITECO works with real-life conditions. CLO 2.0 stands for temperature-dependent current feed and thus for 100 % constant light – only as much electricity is supplied as is needed in real life.
The value is clearly measurable: up to 6 % more savings.