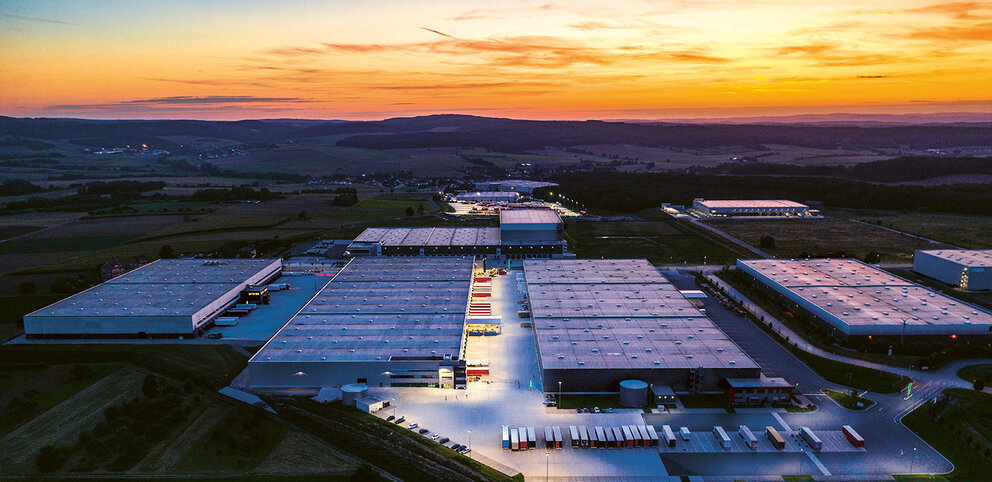 Future
Industry & Logistic.
Production and logistics in a new light.
SITECO lighting solutions enable maximum options for alteration to accommodate changes in usage and environmental conditions. Our revolutionary trunking systems offer a variety of different luminaire inserts. Our customizing solutions provide even more individuality. We offer lighting solutions with maximum future viability: reliable, efficient, flexible.
Cost management and long-term competitiveness are directly related. In addition, companies today are expected to make a noticeable contribution to reducing CO2. Future-oriented lighting technology enables dramatic cost and CO2 savings.
For production and logistics facilities, it's important that the infrastructure offers flexibility and have an intelligent design. The basis of this is choosing systems that are highly adaptable, highly compatible and have open source technology.
80 % of our perception is visual. Light provides energy and generates safety, security and
well-being. Nevertheless, companies today orient themselves almost exclusively to
occupational safety standards and regulations. The real potential of lighting quality is currently far from being completely exploited. For greater well-being, motivation and success.
Uncompromising reliability and minimal operating costs.
Our guarentee for the highest level of energy efficiency and lower operating cost: maximum system efficiency with up to 200 lm/W in combination with multi-lumen technology. We use advanced Constant Lumen Output (CLO) to ensure consistent quality of light even when ambient temperatures fluctuate, and also prevent energy waste as a result of excess-planning. This leads to extremely short pay-back periods.
The ideal place for our reliable luminaires with a service life of up to 100.000 hours.
Discover unparalleled reliability and minimum operating costs.
Networked lighting enables central control and real-time transparency of consumption and maintenance intervals. Easily integrated sensor technology offers additional application options: from motion detection, optimization of ventilation and air conditioning systems to heat mapping of warehouse traffic for improving the flow of goods – a genuine plus in terms of efficiency.
Up to 90 % less energy consumption due to intelligent follow-me control.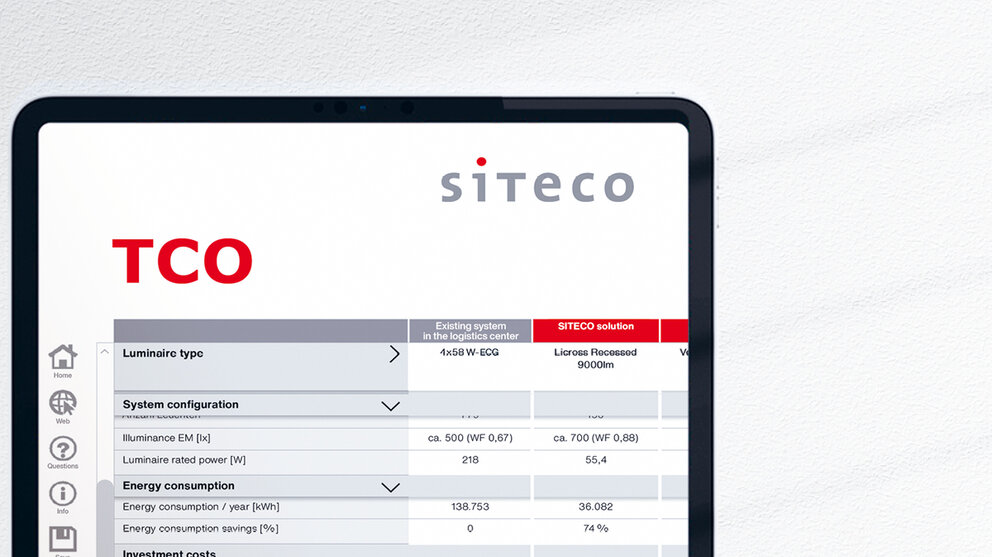 If not now, then when. Our specialists show you what's possible by
analysing the specific conditions at your site.
Hand in hand with architects, lighting designers and electrical contractors, we translate your functional and design requirements into your ideal technical solutions – made tangible using state of the art visualization.
SITECO enables all scales, from pilot projects to a big step.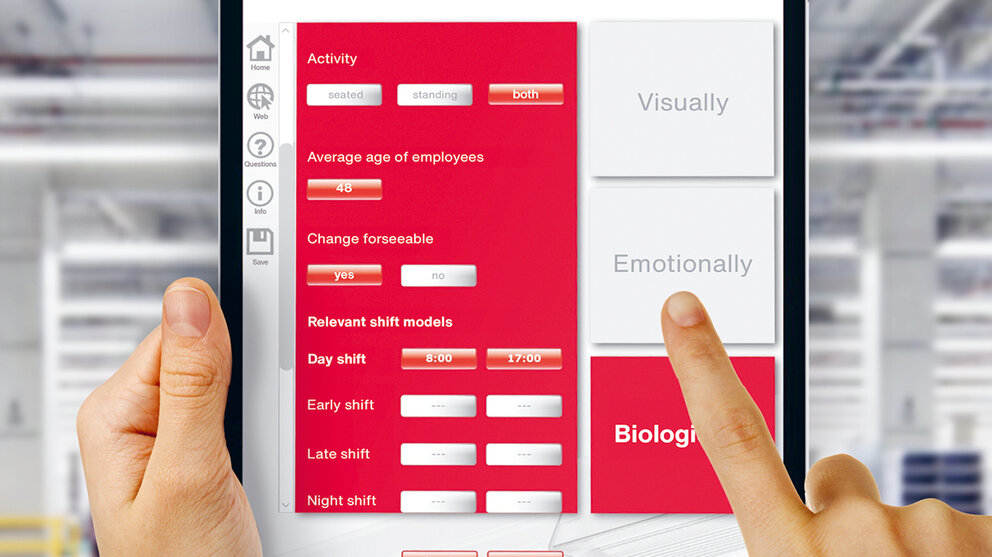 On paper, anyone can do HCL nowadays. We transform it into reality. HCLlive is our promise to achieve the greatest benefit from HCL in your specific situation.
During the process we support and accompany you, from holistic planning, installation and commissioning to fine tuning.
SITECO HCLlive is a new dimension of light.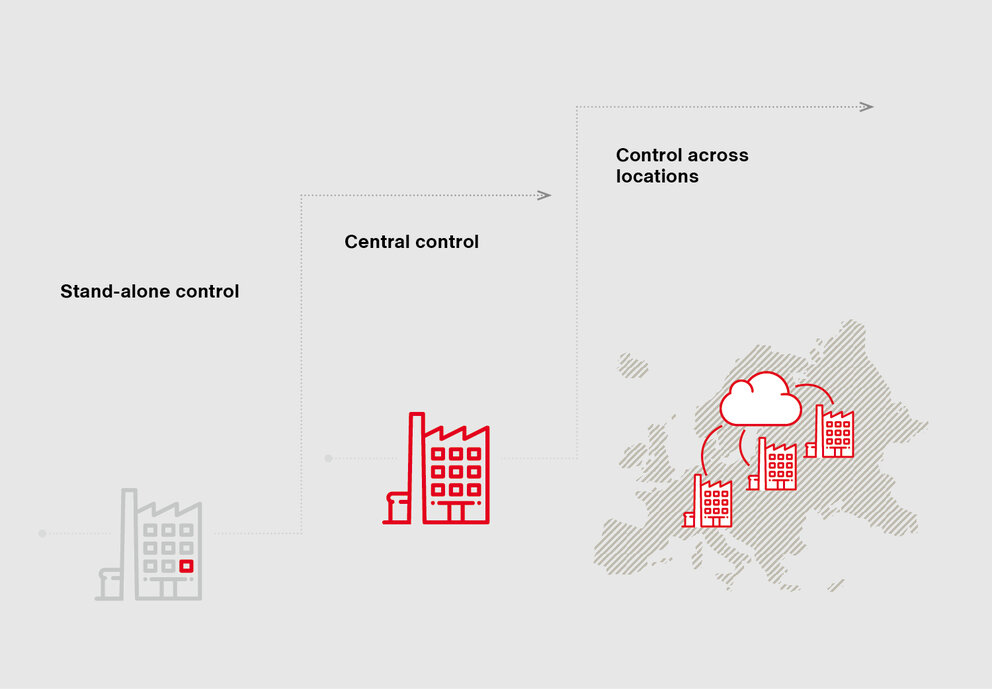 Now or later. We create the infrastructure that leaves all your options open. From the simple plug-and-play control to the fully intergrated building management system – SITECO Connect delivers tailor-made solutions. And we accompany you through the entire process: Planning,
programming and commissioning.
SITECO Connect for next-level digital solutions.
When the options in the catalogue end, the almost infinite variety of customized options begin. SITECO offers a wide spectrum of customized solutions thanks to its experienced team of designers and engineers. Made in Germany also means we provide additional flexibility and speed.
Ideal customer proximity via flexibility & speed.