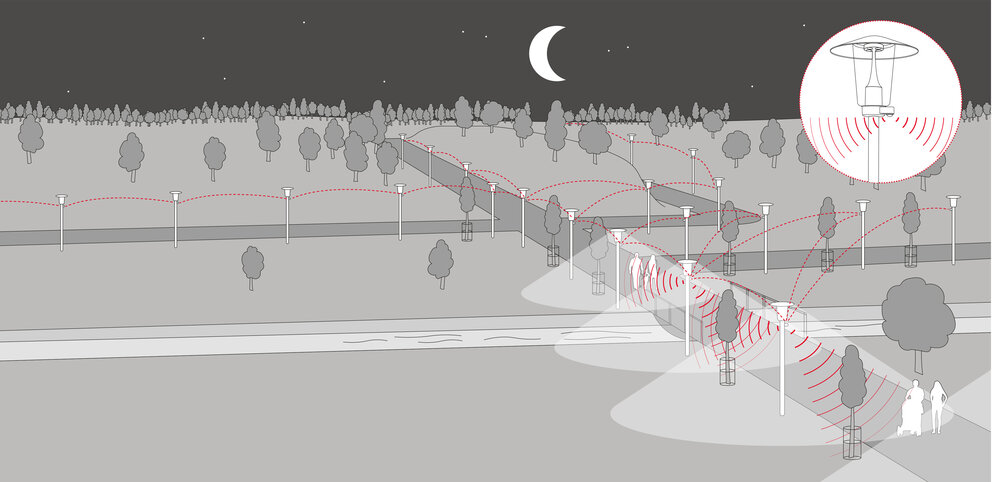 Intelligent light management for recreation area.
Eisbergpark, Austria
In the Eisbergpark, light also becomes an experience.
The light that follows you - at Eisbergpark in St. Pölten, Austria. This is ensured by motion detectors with radar sensors on the newly installed SITECO mushroom luminaires. The special feature of the motion detectors is a built-in radio device with which the luminaires communicate with each other. This means that lighting is only provided where visitors to the park are located. Energy saving, nature conservation and safety are thus optimally combined.
The light is dimmed to 10% and raised to 50% when visitors are present
70 SITECO mushroom luminaires illuminate the Eisberg Park harmoniously and reliably
Easy connection of the Zhaga motion detectors to the SITECO Smart Interface
37 Smart Plug Motion Radar motion detectors reliably detect visitors at all times
Radios built into the motion detector transmit motion detection to the two neighboring luminaires. This allows several luminaires to be activated in the vicinity of the visitors
At the 33 luminaires without motion detectors, normal Zhaga radio devices, the Smart Plugs Standard, provide for the integration of these Mushroom luminaires into the group control.
| | | | | | |
| --- | --- | --- | --- | --- | --- |
| Customer | Location | Products / Solutions | Year | | Planner |
| Community St.Pölten, Austria | Eisbergpark, St.Pölten | Mushroom luminaires, SITECO Connect 21 incl. wireless motion sensors | 2023 | | SITECO |