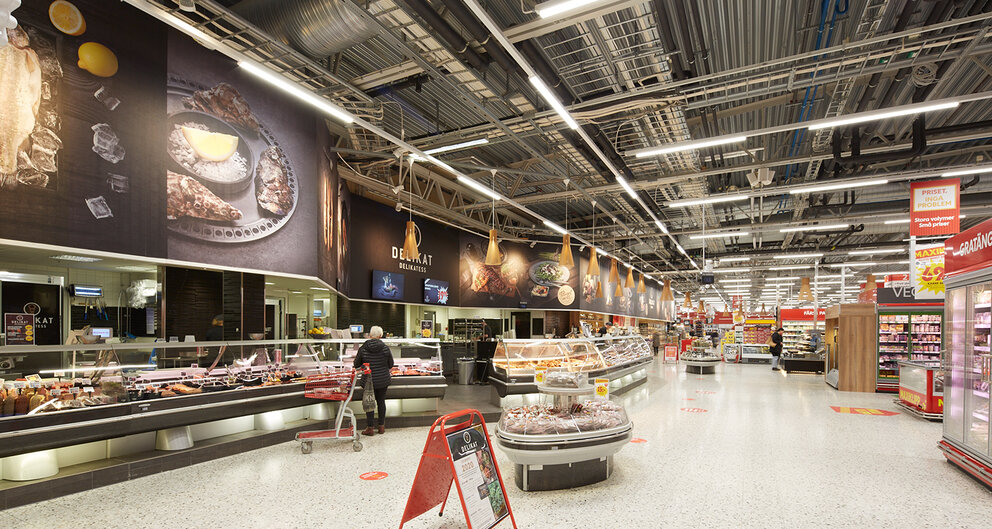 ICA Maxi Halmstad, Sweden
Everyday shopping in a fresh new light.
If you want satisfied customers, you must make shopping an experience. Lighting solutions from SITECO support this approach at the same time improve energy savings and create the best balance between the two with modern solutions - at ICA Maxi store Flygstaden in Halmstad, Sweden. Here, the Licross® trunking system has replaced the old lighting with T5 fluorescent tubes. These had only managed a mediocre light level and were simply mounted in rows - inflexible and completely detached from the store layout. Thanks to SITECO, the store is now much brighter. Optional dimming not only saves energy, but also offers the opportunity to deliberately illuminate individual surfaces and areas. The well-lit aisles help with orientation in the store, and the friendly atmosphere invites customers to stay a while. Rich colors for fruit and vegetables stimulate the appetite.
"And the lights don't glare - another significant advantage for our customers and employees," adds owner and store manager Tommy Fransson. He also benefits from the new lighting solution behind the scenes. In the warehouse, for example, motion sensors control the lighting as needed – directly impacting ongoing operating costs.
| | | | | | |
| --- | --- | --- | --- | --- | --- |
| Customer | Location | Products / Solutions | Year | Architect | Planner |
| ICA Maxi | Halmstad, Sweden | Licross® trunking system | 2021 | - | SITECO |