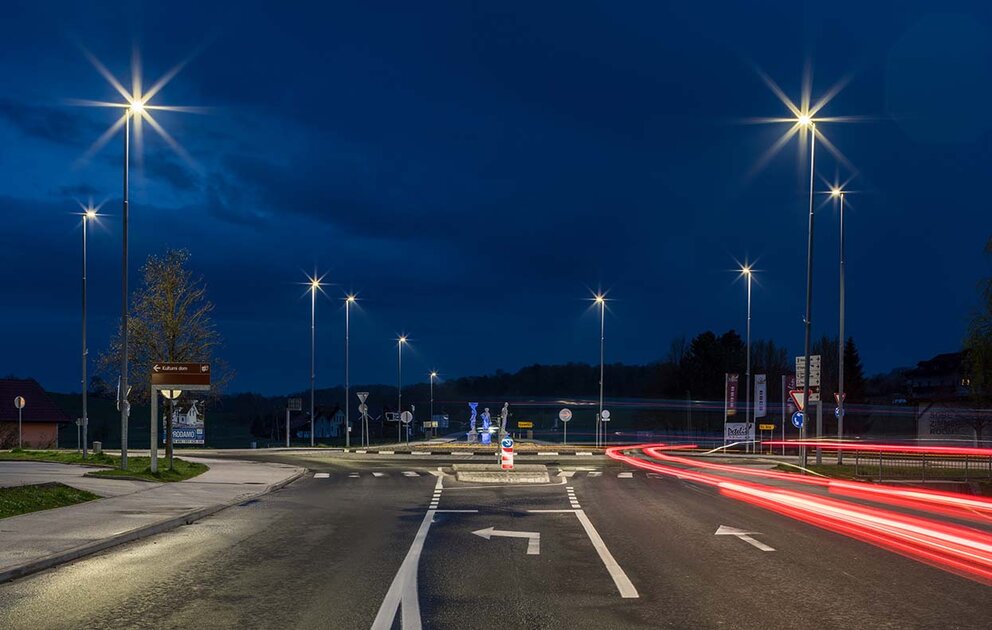 Municipality Benedikt, Slovenia
Saving energy and reducing CO2 emissions are the major issue weighing on the minds of towns and cities. Municipality of Benedikt, Slovenia, has reduced energy usage by 80% with the help of SITECO's solutions – and the benefits do not stop there: The money being saved by the town is taking pressure off its budget. The new lighting system also meets the country's dark sky requirements. The long-term solutions facilitate stress-free, future-proof operations.
Benedikt is using Streetlight SL 20 micro and mini in its new streetlight system. The power used by the lights can be lowered by 50% and 30% respectively with the help of a nighttime electricity reduction system. The church is illuminated by Floodlight FL 20 mini. The system's light is gradually reduced down to 15%. In the renovated sports hall, floodlights and sensors team up to produce a constant level of light based on the amount of available sunlight. In the process, the town is fully tapping its savings potential with the help of SITECO.
| | | | | | |
| --- | --- | --- | --- | --- | --- |
| Customer | Location | Products / Solutions | Year | Architect | Planner |
| Municipality Benedikt | Benedikt, Slovenia | SL 20, FL 20 | 2021 | - | SITECO |