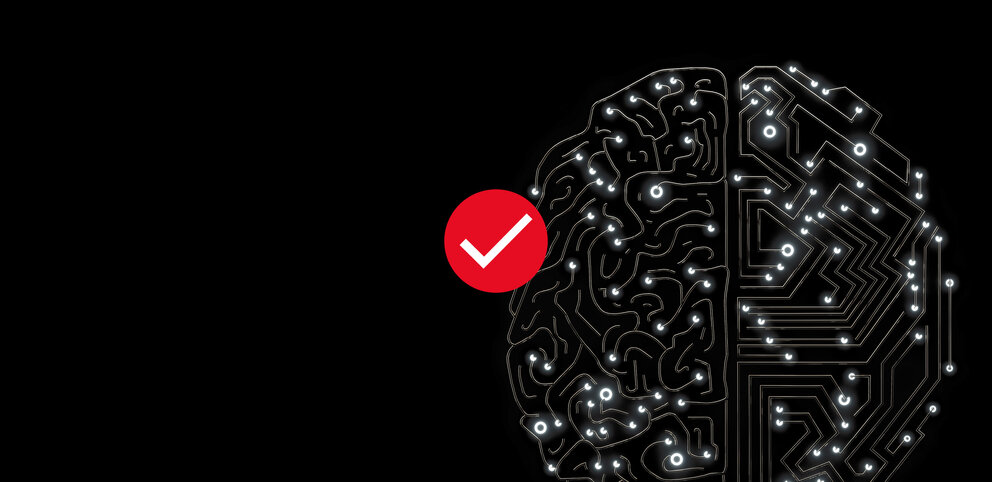 Intelligent
outdoor lighting
with an exceptional iQ.
iQ brings digitalisation to life.
SITECO outdoor luminaires are intelligent. New robust functions perfect the nervous system, delivering phenomenal talent! We're sharing our compelling technology to inspire you to take this quantum leap. Because this will lead your city into the future.
Intelligent, interactive, intuitive, integrative.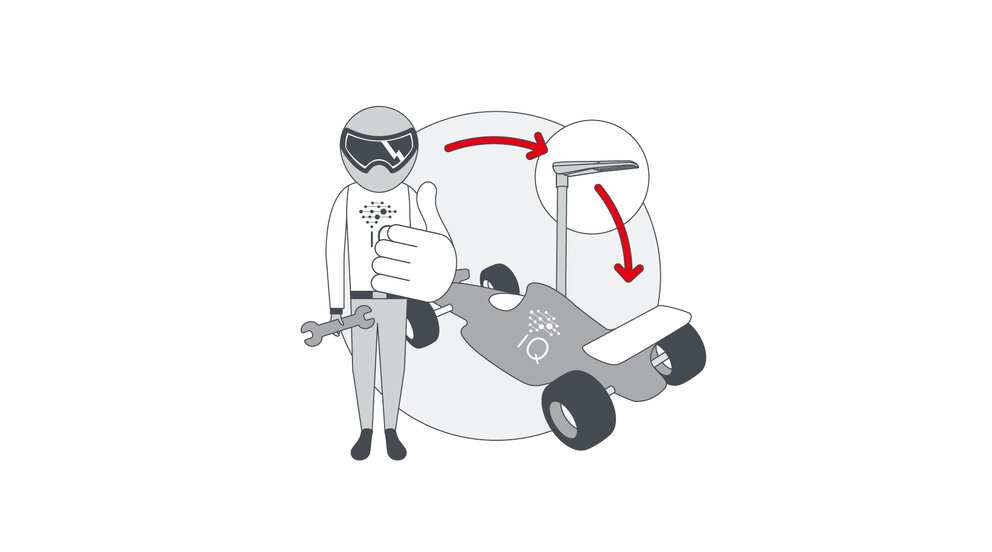 Spare-parts swap with automatic data exchange
Exchange components, update components: SITECO Auto-Match makes everything about this easy. Because the information and values needed are available over a nervous system in both the ECG and the LED board and the components communicate with each other. As soon as a new element is added to the luminaire, it automatically receives all the settings and information from the system and begins its initial training autonomously. Gone are the days when someone has to painstakingly read out operating hours and dimming settings and manually transfer them. This saves a lot of time and effort both on-site and in the organization because no one has to look up configuration information for an old luminaire anymore.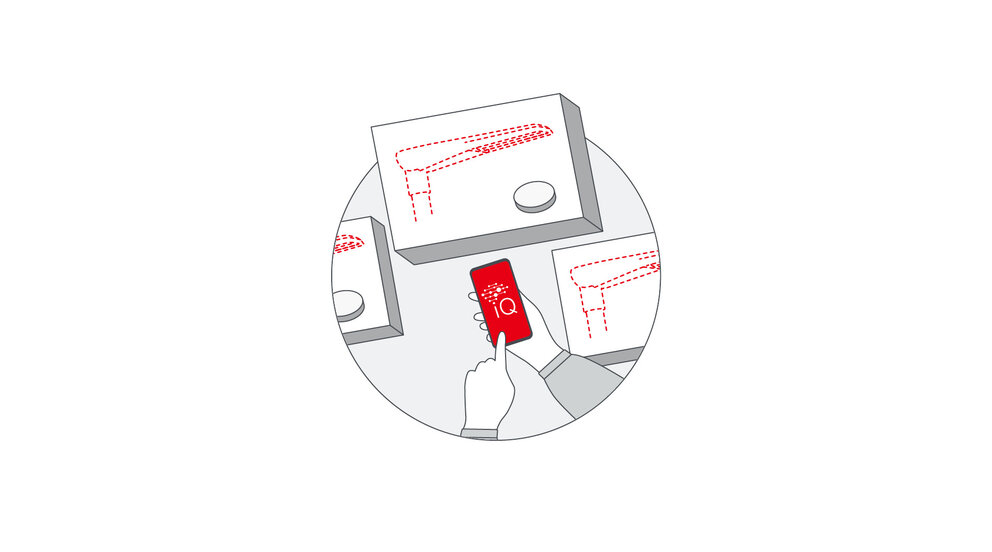 Adjusting the luminaire in the workshop.
You'll make faster progress if you adjust luminaires in the workshop before installing them: Thanks to the convenient SITECO Desk-Remote function, you don't have to remove the luminaire from its packaging – let alone open it. Even with the shipping box closed, you can transfer all parameters securely and hassle free. Desk-Remote with improved near-field communication (NFC) and our iQ app make this possible.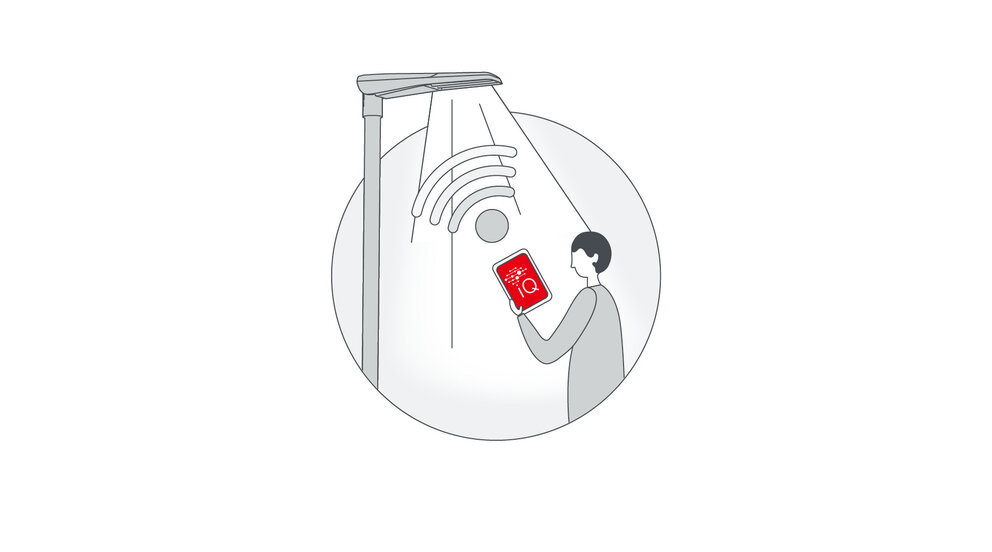 Adjusting the luminaire from the sidewalk.
Spending huge amounts of time adjusting or checking streetlights is a thing of the past: Thanks to SITECO Street-Remote, no tools and cable connection are needed as all parameters are easily and quickly transmitted over a stable Bluetooth connection from the pavement. No more road closures, need to use cherry pickers or risk of having to remove parked vehicles. And all the more convenient for making adjustments and that much easier for events or if residents are an issue.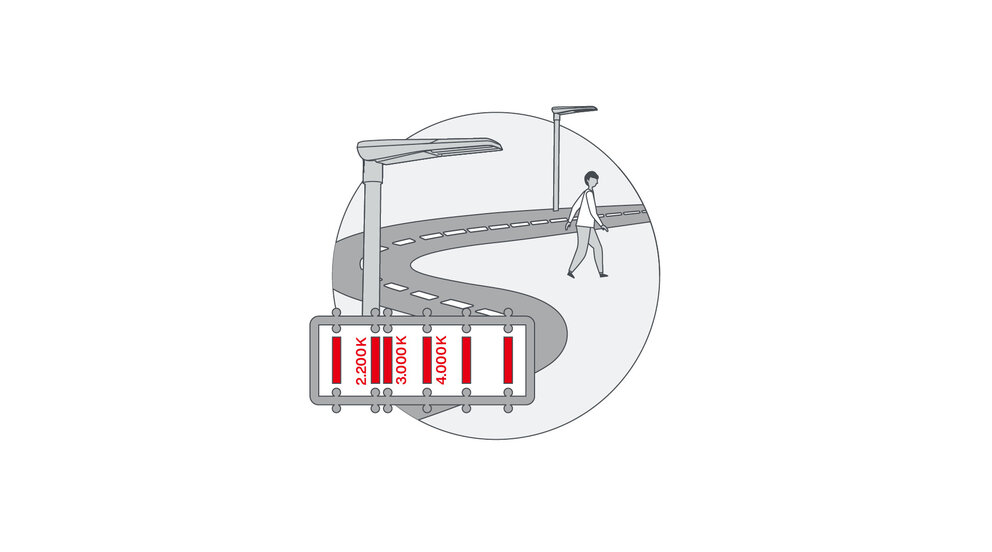 Adjusting light color.
Which light colors will be stipulated in the future? Thanks to SITECO Color-Switch, you don't have to worry about that. Investing in this feature will certainly pay off because you can easily adjust the light color later on; for existing luminaires, this can be done by simply changing the module. But Colour-Switch can deliver even more: It's able to switch between two preset light-color values to, for example, improve traffic safety at defined times. Or to avoid disturbing the rhythm of nocturnal insects through the use of warmer light. In this way, SITECO is making a long-term contribution to nature and species conservation.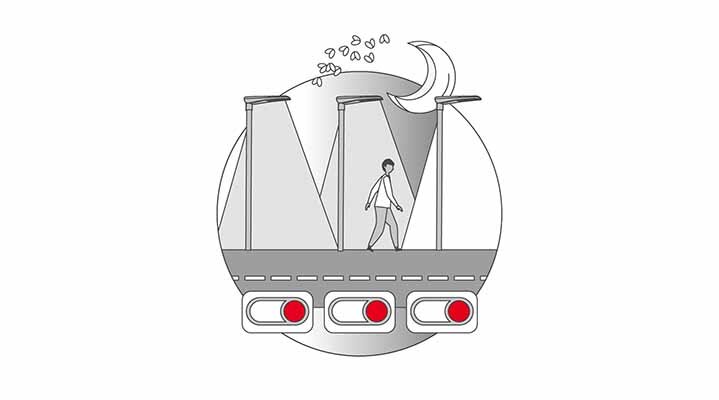 SITECO Night Set controls nighttime reduction while also offering a whole host of other control options. Additional dimming and lighting functions are available that allow a more customized approach to implementing night reductions – and you can switch between profiles, for example to vary weekdays and weekends. Time-dependent adjustments for light color and light distribution can also be made. This helps nighttime light use to be deployed in a way that protects nature and animals.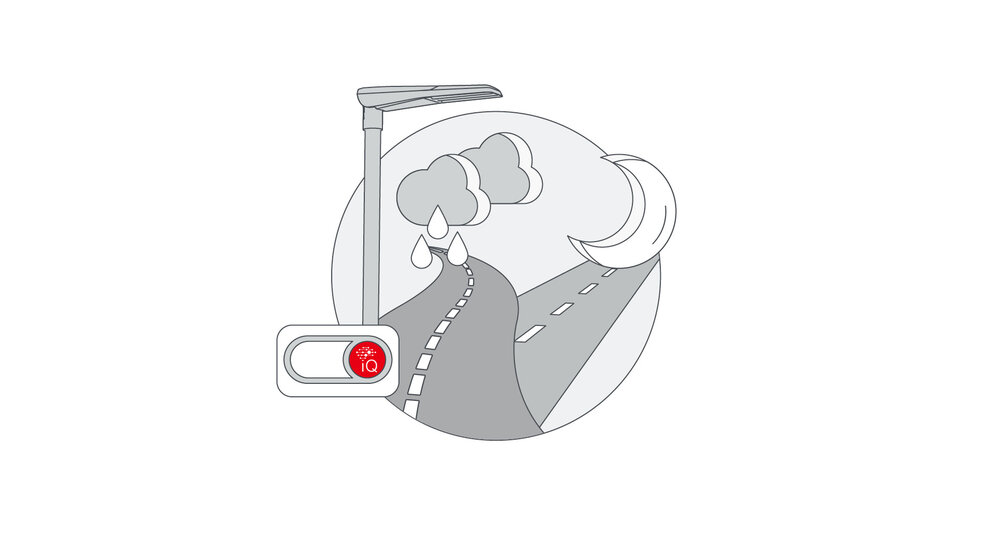 Adjusting light distribution.
How does the weather affect light distribution? The SITECO Light-Switch function uncouples road safety from weather conditions just that much more. Because Light-Switch ensures glare and reflections can be reduced when the roads are wet, an effect that results in improved visibility. And ultimately this positively contributes to the safety of all road user.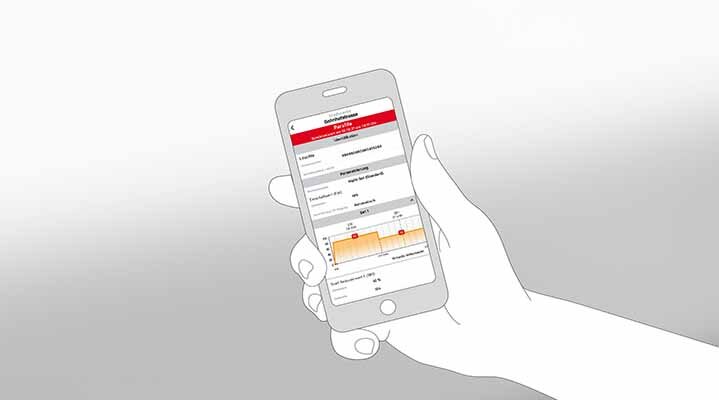 Inform, configure & diagnose, manage.
All this is a breeze with the iQ app for your smartphone (for iOS and Android). The individual QR code of each luminaire ensures this. The data, settings and instructions of individual luminaires can be accessed at any time. Whether on the road with the app or in the office using the convenient web tool: iQ apps and QR code form a perfect team. Each task becomes easier, from applying default settings and profiles to creating a luminaire registry
Take a brief look to our various flyers and materials.
Then you can see where outdoor lighting with iQ can benefit.
Maximun convenience. Fit for the future.
Do your iQ check now.