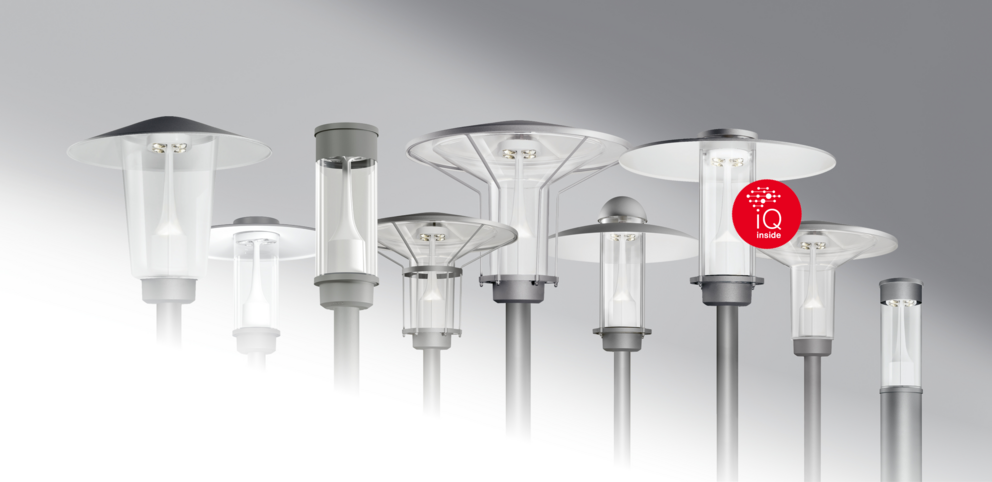 Urban luminaires with module 540 iQ -
Elegance. Precision. Style.
The future of urban and park lights.
Every city is different, but all want to be attractive and inviting. SITECO urban and park luminaires can play a decisive role in adding a certain flair to your city. Our luminaires are effective day and night, create aesthetic accents and look perfect when combined with design masts. But the best part is what's inside: All luminaires contain the latest generation of Module 540, which is also a perfect solution for refurbishing old systems. Because this module packs a punch: It has, for example, iQ, our new, patented luminaire electronics that equip your light with a host of new functions and forward-looking control options. SITECO transports cherished design classics not just into the age of LED, but right into the future.
Urban lighting with Module 540 — classic on the outside, revolutionary on the inside.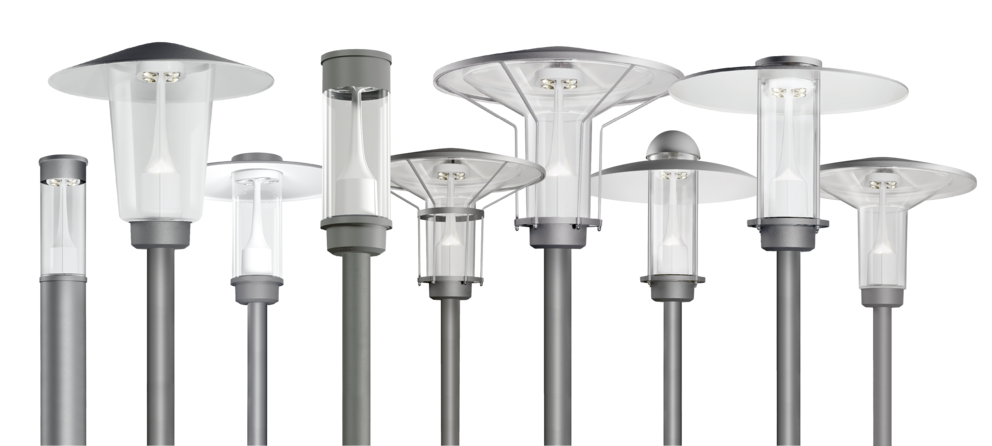 Off into the future
Controllable and sustainable
Maximum flexibility thanks to a range of luminaires that help you meet the architectural requirements
Visual guidance and decorative day-night effect through luminous module body
Excellent visibility and uniform illumination thanks to premium lighting technology
Streamlined handling, increased durability and comprehensive control functions directly on board with patented iQ luminaire electronics
Additional efficiency boost with the help of patented silver coating (up to 12 percent)
Available with especially insect-friendly, amber-colored lighting (2,200 K)
Flexible control options thanks to future-proof variations with smart interface in accordance with Zhaga standard
Solutions like the urban luminaires with Module 540 don't just illuminate the city — they're part of the city. Their classic forms have enhanced the cityscape day and night sometimes for decades. And now urban residents won't have to do without this emblematic, cherished appearance for their city in the future either Because no matter how modern, digital, efficient and environmentally friendly the inside of a luminaire is, the atmosphere and distinctive character of the city remains.
Decorative solutions style outdoor spaces day and night. They shine and illuminate — for example with coordinated light colors as well, depending on where they are used.
People like being in places where it is pleasant. Our design classics create atmosphere and ensure people feel good, even in the latest generation.
Historical downtowns, city centers, selected squares — they're the ideal home for decorative classics. SITECO's urban lighting solutions help you create a consistent cityscape.
Classic shapes combined with digital light. Our urban luminaires will continue to create aesthetic accents in the cityscape well into the future as well.
Decorative solutions do not take a back seat at night. They clearly indicate what directions streets and roads take and function as reference points.
Innovation, modularly packed and configurable to order
The latest generation of the Module 540 unites all the advantages of innovative SITECO lighting technology within a simple module concept
Individual, digitally controllable light using iQ luminaire electronics
Low energy consumption thanks to top-of-the-line LEDs and light control with silver coating
Reliable operation through high-quality materials and manufacturing
Excellent visibility with precise, glare-free light distribution
That's robust technology that looks damn good. And it's how lighting can create an atmosphere enveloping people in comfort.

Additional cover for even greater uniformity in light distribution
Further increases visibility for pedestrians and drivers, protects against direct viewing of the LED unit and enhances the module's look
Can be attached without tools
The amber spreader allows for subsequent adjustment of light colors to, e.g., meet local requirements for nature conservation and insect protection
Silver-colored decorative ring
Cover for the base of the LED Module 540
Color-coordinated with the body of SITECO urban and park luminaires
Can be inserted without tools during luminaire installation
To further reduce the rear lighting component
Can be mounted in only a few minutes during luminaire installation
• Three-zone faceted reflector enables harmonious contrast transitions to make seeing easier
LED unit is mounted on the gear tray using a bayonet
Visual guidance through light reflection
Made of die-cast aluminum
For more information simply click on the read circles.
For a long sustainable product life.
Spare parts.
The following spare parts are available individually: All housing components, diffusers, LED units, control units and gear trays. You can receive the following preset configurations on request: Color variations (module, housing) | Light color | Light distribution | Lumen packages | Cover | Cables (type, length) | Parameterization (time, dimming level) | iQ settings
Intelligent. Interactive. Intuitive. Integrative.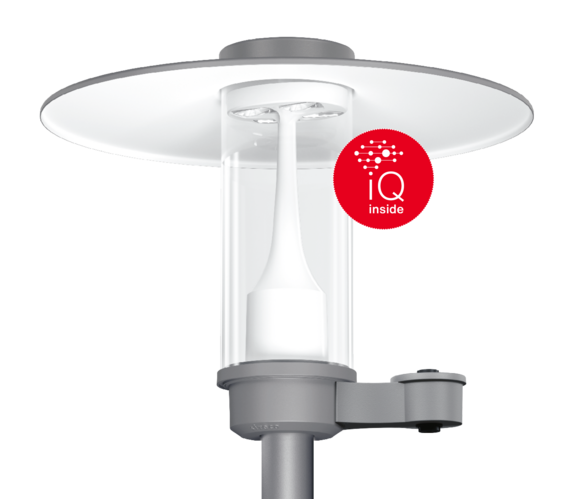 SITECO urban lantern luminaires with Module 540 iQ already come fully loaded with comprehensive control and diagnostic options. All elements can be extensively networked. This lets you connect components to create a system that's more than the sum of its par ts.
Intelligent lighting control realizes its full potential when all the components interact: electronic control gear (ECG), LED module, optics and wireless configuration. This works just as well on its own as it does as par t of a telemanagement system.
Sustainable light
From die-cast aluminum housings to the latest generations of LEDs with special lighting technology we developed — everything about SITECO is designed with long lasting operation and significant CO2 savings in mind.
Environmentally friendly production and packaging
SITECO follows environmental protection guidelines for its production operations in Germany. That means: No long transport routes that stretch halfway around the globe and packaging that uses as little plastic as possible.
Simple repairs
Modules, drivers and other components can be replaced easily, sometimes even without tools — the ideal way to make repairs or add updates in no time at all. SITECO is sustainable light.
Insect-friendly light
Amber-colored, 2,200 Kelvin (amber spreader can be mounted at a later point) dramatically reduces the attraction of insects. An additional advantage: The luminaires get less dirty as a result. Good for you, good for biodiversity.
Targeted light control
Factory settings with iQ functions can be reset at any time over Bluetooth in front of the mast (without having to use a cherry picker). Complete flexibility thanks to needs based dimming, switching and control. The reduced level of light has a positive effect on the natural behavior of animals.
Up to < 1% light emissions:
As little light as possible in the upper atmosphere is our goal. By cleverly adjusting the module and covers, Module 540 variations make it possible to reduce light emissions to <1%. For a truly dark night sky.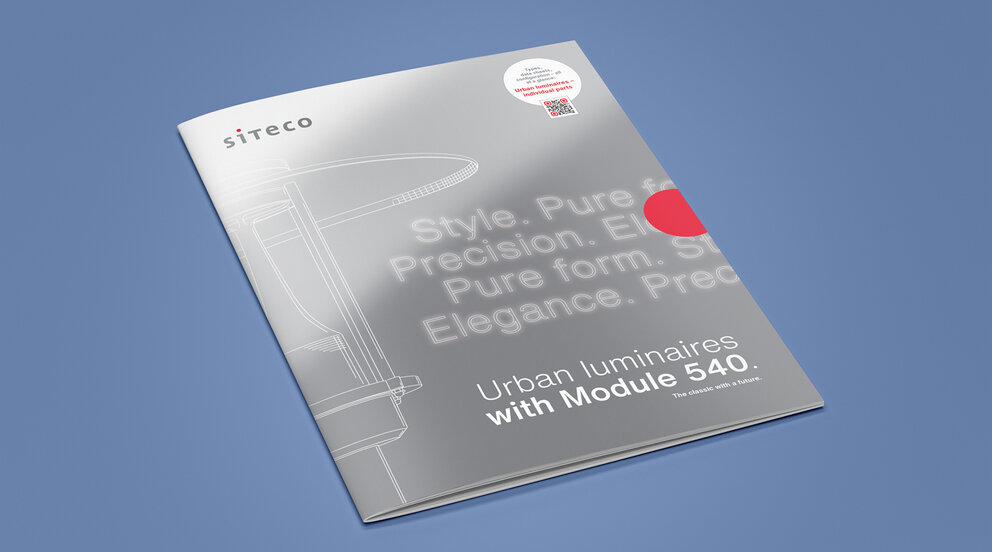 Product details, planning guide, specifications -
you can find everything at a glance in our flyer.