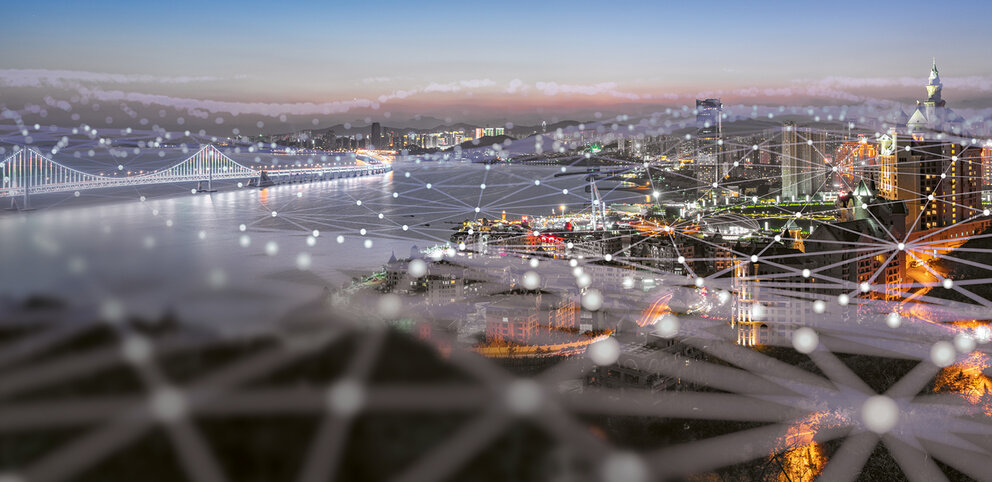 Lighting Control
City
Intelligent control. For more safety and nature conservation.
Save up to 80 percent energy. Reduce CO2 consumption. Transparently monitor the condition of the installation. Increase safety for the population. And do something good for the plant and animal world.
That sounds almost too good to be true, but only almost. Becaus e time-based and situational lighting control via SITECO Connect provides communities, towns, cities and companies with impressive usage options that ultimately result in one thing: a lighting solution that benefits everyone.
Together we make your lighting systems "smart city ready".
Smart lighting control? Sure, SITECO Connect!
SITECO Connect makes it easier to implement environmental guidelines. And this is precisely the prerequisite for applying for subsidies. Payback times are significantly shortened as a result.
Motion detectors enable the quick implementation of local conservation needs, they prevent vandalism and graffiti. In security-relevant areas, motion detectors temporarily raise the lighting, thus increasing the well-being and sense of security of the population. And, of course, with our controls you can switch and dim any place or path - where you have a changing lighting need - according to daylight, calendar and time.
SITECO Connect: Simply good!
Where there is little activity at night, e.g. on rural roads, it is very easy to purposefully reduce illuminance levels. This has a direct impact on the CO2 balance.
Targeted dimming in the dark of night reduces light pollution. Nocturnal animals, particularly in parks and nature reserves, are less disturbed in their natural behavior.
Landmarks and architecture worth seeing determine the character of a town or city. These attractions can be automatically illuminated and create a pleasant atmosphere.
Only where it is dark can you remain undetected. Motion detectors protect municipal facilities, sports facilities or schoolyards.
SITECO Connect: Start off simply. Upgrade flexibly
Connect 31
Single luminaires are activated or dimmed with a local motion detector.
Example: The motion detector activates just one luminaire.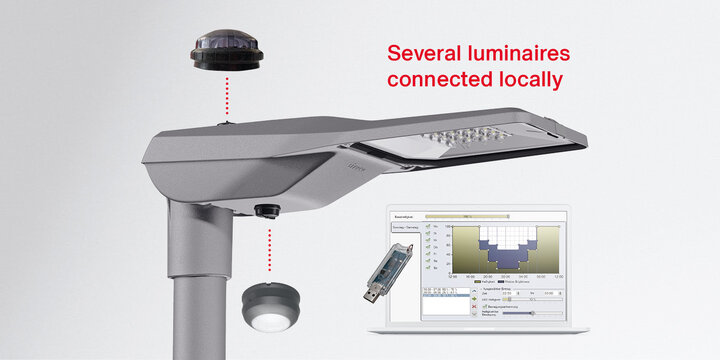 Connect 21
Several luminaires are connected via radio. The luminaires in the network communicate and synchronize with one another. The luminaires are synchronously or continuously activated or dimmed.
Example: The motion detector also switches neighboring luminaires via radio link.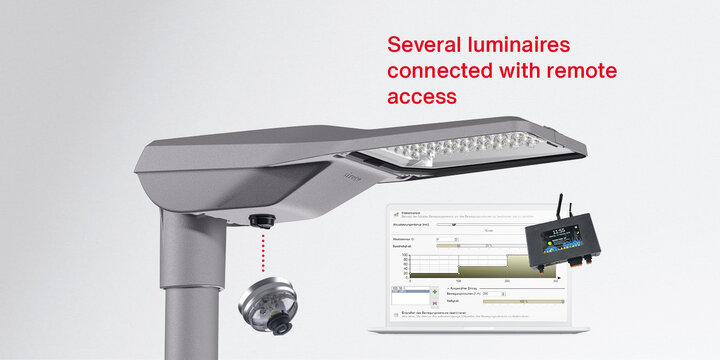 Connect 11
The luminaires are connected via radio. Settings can be defined from the office via the network with remote access and status messages sent automatically. Existing inventory and workflow systems such as LuxData by sixData can be used as a master.
Example: The network of luminaires functions synchronously and is remotely monitored.
When does the future begin? Decide for yourself.
With us, you lay the foundation for a future-proof infrastructure. Thanks to Smart Interface, SITECO outdoor luminaires have standardized interfaces for the integration of radio-based control and sensors via plug & play. And SITECO Connect provides the suitable function packages for this. When and to what extent you use these options for greater efficiency, networking and sustainability is entirely up to you. Either directly from installation, or upgrade flexibly when you feel the time is right. Your light is ready.
Always 100%
From simple control of individual luminaires to fully networked systems.
100% compatibility between luminaire, control and sensor technology

100% freedom of choice thanks to standardized interfaces (Zhaga Book 18 & D4i or NEMA)

100% future-proof thanks to expansion options in case of later need

100% flexibility in application – from simple to fully networked

100% convenience thanks to plug & play of radio control systems and sensors
SITECO is a solutions provider. With innovative services that span planning and customer-specific programming to commissioning and monitoring of our networking solutions, we offer everything to make our solutions as easy as possible for you. As one of the first providers of intuitive plant inventory management, our LumIdent service is proof that we create real customer value.
Local controls.
Digital control functions in the luminaire through the the ECG – with or without control wire
Sensors for dimming and switching depending on brightness or movement
Connected controls.
SITECO Connect I/O for safe and connected lighting control via Powerline
SITECO Connect Wireless for flexible, wireless lighting control with motion sensors
Beyond.
SITECO Connect Beyond for connected smart systems, e.g. for traffic sensors
LumIdent as a three-step solution for inventory and asset management