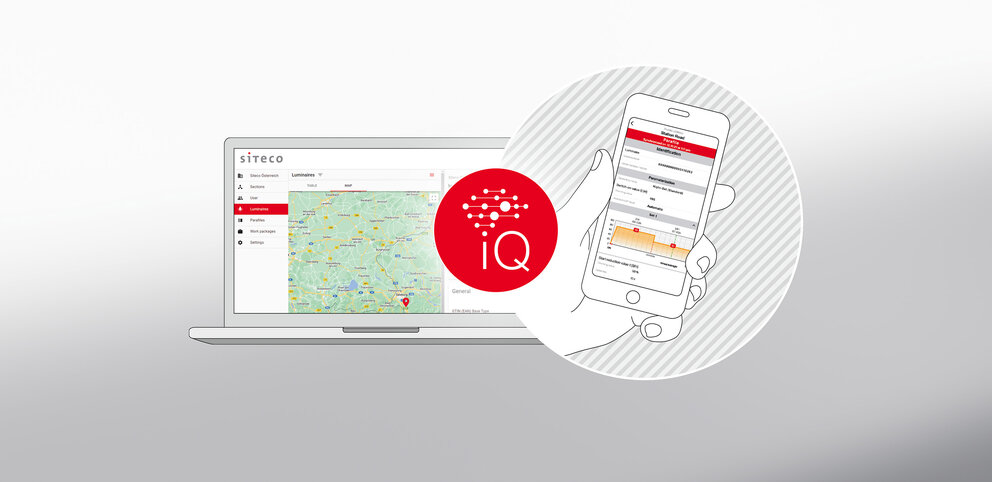 SITECO
iQ webtool & app

Inform, configure, diagnose & manage.
The larger and more complex a system, the more important it is to have simple tools to manage it. And that's exactly what the SITECO iQ app offers: a cutting-edge, three-step service solution that lets you put your luminaire infrastructure into operation, then monitor and manage it. In short, the SITECO iQ app digitalizes the handling of outdoor lighting. Customers like you benefit from the greater convenience, greater number of options and greater time savings — and all with a single tool.
Managing data doesn´t have to be complicated.
More iQ. More comfort?
For sure!
Modification of the luminaire function by the user to suit the individual situation on site.
Professional data management, i.e. information is collected in the background in a single operation, but is also available in a format tailored to requirements.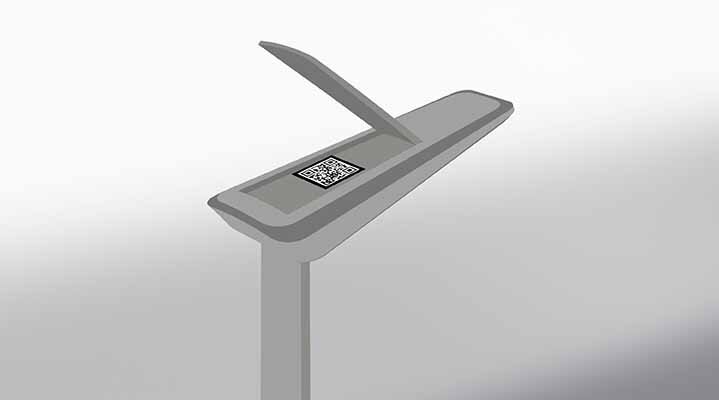 Fast identify luminaires via QR code (digital nameplate)
Easily inventory luminaires via QR code
Determine luminaire type/equipment (e.g. light distribution)
View data sheet, installation instructions, photometric test results
Available via standard QR scan app or iQ app
When using the iQ-Tools (i.e. luminaires are inventoried): With the inventory of the luminaires via the iQ-Tools, further individual information is available. Specific details can be added by the user, e.g. on the mounting situation on site in picture and text.

Prepare and manage via webtool
Create users and grant permissions
Create structure over different areas
Create parameterizations in advance
Prepare work packages
Get an overview of the plant via luminaire cadastre
View recorded luminaires on PC incl. geo-position (table or map view)
File export of luminaire data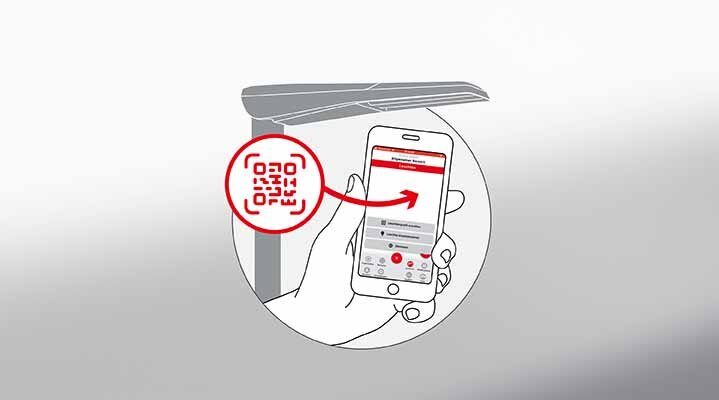 Set luminaires and check data via iQ app
View and change luminaire profile settings and transfer them to luminaires (Smart Wire, Night-Set, Lumen-Switch, Color-Switch)
Easily check parameterization wirelessly, read out data and thus find errors
Digitize luminaire inventory & create luminaire cadastre, add individual information in words and pictures
Make and document settings
Download SITECO iQ App (iOS)

Download SITECO iQ App (Android)
App functionalities at a glance
One click on the icons - get all the information you need.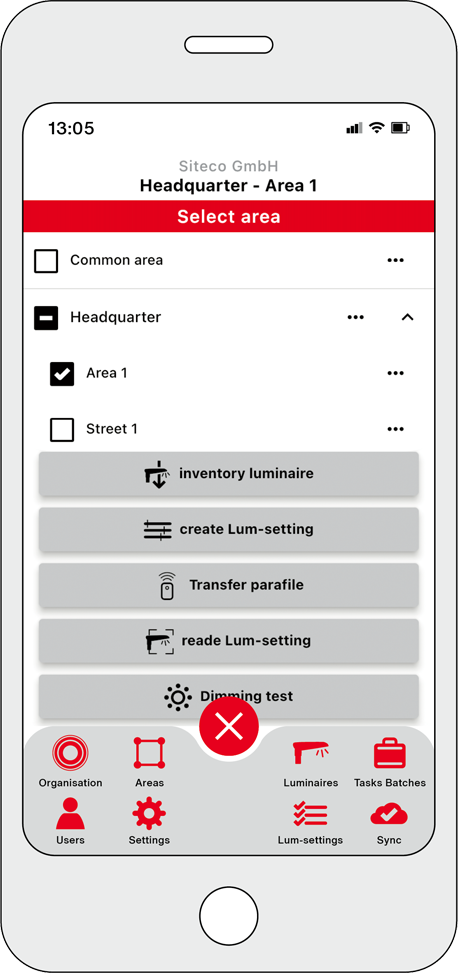 Starting point for all executable steps like configuring and testing of the luminaires.
Your start menu after a successful login. Here you find information about the organization you are currently in. In addition, you can also change the organization.
As an administrator of an organization, you have already mapped your usual structure with different areas in the web tool. Areas can be based, for example, on towns and districts, but also, for example, on the electrotechnical infrastructure with its power distributors.
As an installer, you can work in the areas released for you and, for example, add new luminaires to an area, check existing luminaires and, if necessary, change the configurations. The execution is done via the Action Button.
As an administrator, you have the option of giving your team task- and area-specific access to their lighting system.
As an installer, you register your own user account. You are added by an administrator to an organization or a subarea.
Overview about main settings and settings like:
Transmission path:
Street-Remote: Wireless configuration for iQ luminaires
Desk-Remote SITECO iQ Handheld: Voltage-free RFID configuration
Service Box: Configuration of compatible luminaires

Display values
The app checks which display form is possible for the luminaires. Depending on the ECG, the values are displayed in the corresponding unit. The order can be easily adjusted by moving the entries.
You have questions?
Get in touch with us! Our technicians and experts are always ready to help you.
Customize your profile?
Simply use the burger menu to change your password and profile. Data is saved locally through offline mode.
Data can be deleted via "Clean data". For more storage space on your device. (The data remains in the cloud as a back up).
With iQ it also works offline: For smooth offline work, the app regularly synchronizes its data in the cloud. You can also check the current status in this view.
Task batches can be created online via the web tool and are available for download by the user. They can be individually compiled for the task at hand and contain, for example, new luminaire configurations or information on existing luminaires.
If a stable Internet connection is not available on site, the data stored locally on the smartphone can still be used to carry out the prepared work steps, e.g. changing a luminaire configuration.
Here you can see all the luminaires inventoried in your organization/area. Use the map button to switch to the map view.
After selecting a luminaire, you will see all available information about it. You can also download all valid documents (data sheet, installation instructions, photometric test report (LP)) for the luminaire.
Via the map button/map view you can view the current configuration. In addition, you can enter/change further information and assign the luminaire to another area (corresponding authorization required).
Shows a list of all configurations created for this area. Configurations can be created for specific luminaires or article numbers. After selecting a configuration, the settings can be viewed in detail.
The benefits of taking stock of your inventory:
Inventorying allows you to add additional important information to your luminaire data such as the location of the luminaire, its installation date and the ty pe of installation – all digitally. At the same time, carrying out an inventory is the required first step for using other iQ functions.
SITECO luminaires have a LumIdent sticker with a QR code that contains all the technical information about the luminaire. Simply scan the code and assign luminaires to
your organization.
Tip: Place the QR-Code sticker on the inside of the mast door so all the data is available at all times without having to use a cherry picker.
You can conveniently manage inventoried luminaires using the iQ app or the web tool on a PC. Both ways let you access all important information at all times.
Desk-Remote: Configuring in the workshop.* You can easily configure luminaires before they leave the workshop using the SITECO iQ handheld device.
*Important: When configuring, ensure the luminaires do not have an electrical current.
Street-Remote: Configuring on the road.* If the luminaires have already been mounted, you can check and adjust the settings on location using a cell phone or the SITECO iQ handheld device. No other devices or cables are needed. (This setting option is available for iQ luminaires equipped with the professional add-on Street-Remote.)
*Important: When configuring, ensure the luminaires are switched on.
Tips & tricks
SITECO iQ app
Inventory older SITECO luminiares to the iQ app
Do you have older SITECO luminaires that were not supplied with a LumIdent QR code? Find out how you can deal with the iQ app in this case.
Inventory SITECO luminaires delivered in individual parts.
Do you have decorative luminaires with Module 540 that are delivered in individual parts? In order for the luminaires to be displayed as a complete luminaire in the iQ App, all components can be inventoried.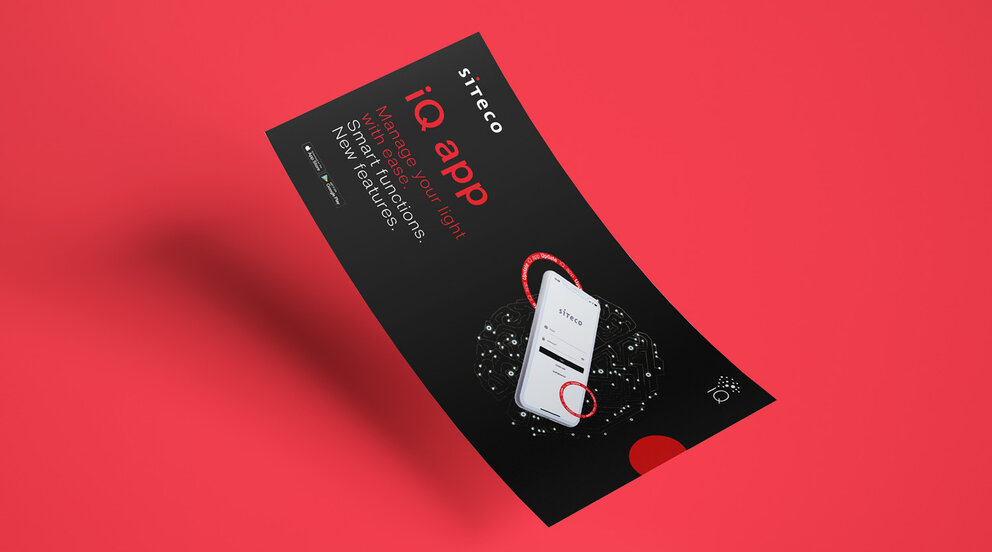 Inventory existing luminaires after upgrading to Module 540 iQ
Have you recently upgraded to Module 540 iQ and now want to control the luminaire via the iQ app? We show you how to add the luminaire to the app.
You can find step by step instructions here
Maximum convenience. Fit for the future.
Do your iQ check now.