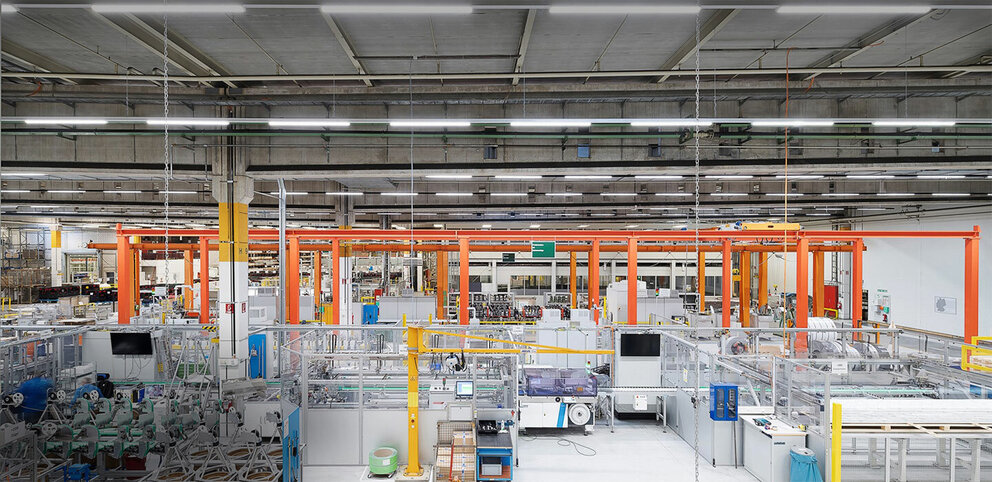 Licross®
trunking system.
A new level of networking.
In launching the Licross® trunking system, SITECO has set new standards in the professional lighting market. Licross® stands for 45 years of trunking systems Made in Germany. The result: A solution that perfectly meets–and exceeds–the application-specific requirements of industry, office environments and retail.
The revolutionary trunking system Licross ® offers the greatest possible freedom of choice with custom-fit configurations and specifications tailored to requirements. Whether in production or high-bay warehouses, computer workstations in factory halls or open-plan offices – the various luminaire inserts offer the right technology for the desired application. Spot, wall and shelf-washer inserts also provide the perfect background, zone and accent lighting. Ideal for retail use and eye-catching product presentation.
14 cores for maximum flexibility: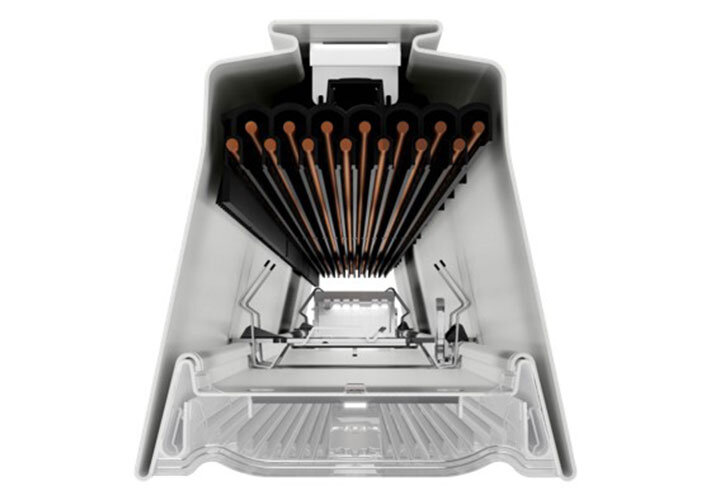 "We can no longer look at light in isolation," says SITECO CEO Körner. Today's world requires connected solutions that are integrated into central management and automation systems. Licross® thereby functions as the backbone of building technology and provides a completely new level of networking.
14 open lines in the Licross® trunking system enable ultra-fast data transmission to the device of your choice. Integrated and standardized Ethernet sockets enable easy integration of a wide range of devices such as cameras, wifi adapters and audio systems. "We can thus bundle smart technology at the luminaire, allowing the customer to optimize the space and appearance of the building ceilings," explains product manager and Licross® project manager Jiri Civin.
Also included: Sensor technology – as a plug&play standalone solution for any number of individual areas or connected to a central building control system via interface. Cloud-capable systems can even connect, control and compare multiple global locations. Luminaires with open, standardized interfaces can be conveniently combined with the company's own light management systems, third-party systems and other structures. "From this perspective, Licross® is a safe investment with maximum future-viability. The system is completely flexible, adaptable and upgradeable," says Civin.
Efficiency from design to control
Licross® defines a new dimension of efficiency. Maximum light efficiency of up to 200 lm/W guarantees low operating costs and quick payback times. The inserts can be installed in the mounting rail quickly and without tools, thanks to the innovative click system. The exceptional stability of the rail also enables large distances and a small number of mounting points.
Inside the inserts, specially developed SITECO drivers provide intelligence and combine multi-lumen functionality, i.e. selectable lumen packages, with the luminous flux tracking system CLOi. Together with the freely positionable and movable sensors, excess planning and high energy costs are finally a thing of the past.
Let light shine on us
Light influences our body visually, emotionally and biologically. It helps to regulate our inner clock. With color temperature, illuminance and light dynamics, well-being and performance can be significantly increased. This applies in industrial production plants with shift operation as well as in affiliated offices and administrative areas.
The prerequisite for this: The perfect technology in combination with individual planning, configuration, installation and calibration. "For us, Human Centric Lighting is more than a definition," says HCL expert Rainer Wrenger. SITECO has therefore developed an approach that takes into account all relevant factors for maximum effect: SITECO HCLlive. Licross® with state-of-the-art Tunable White function and an indirect light element provides the ideal basis for this.
Putting people at the center of attention – this aspect is particularly important to CEO Körner: "At SITECO, we make light for people. And Licross® is an idealistic example of how forward-looking technologies and control concepts can be used in the best possible way."