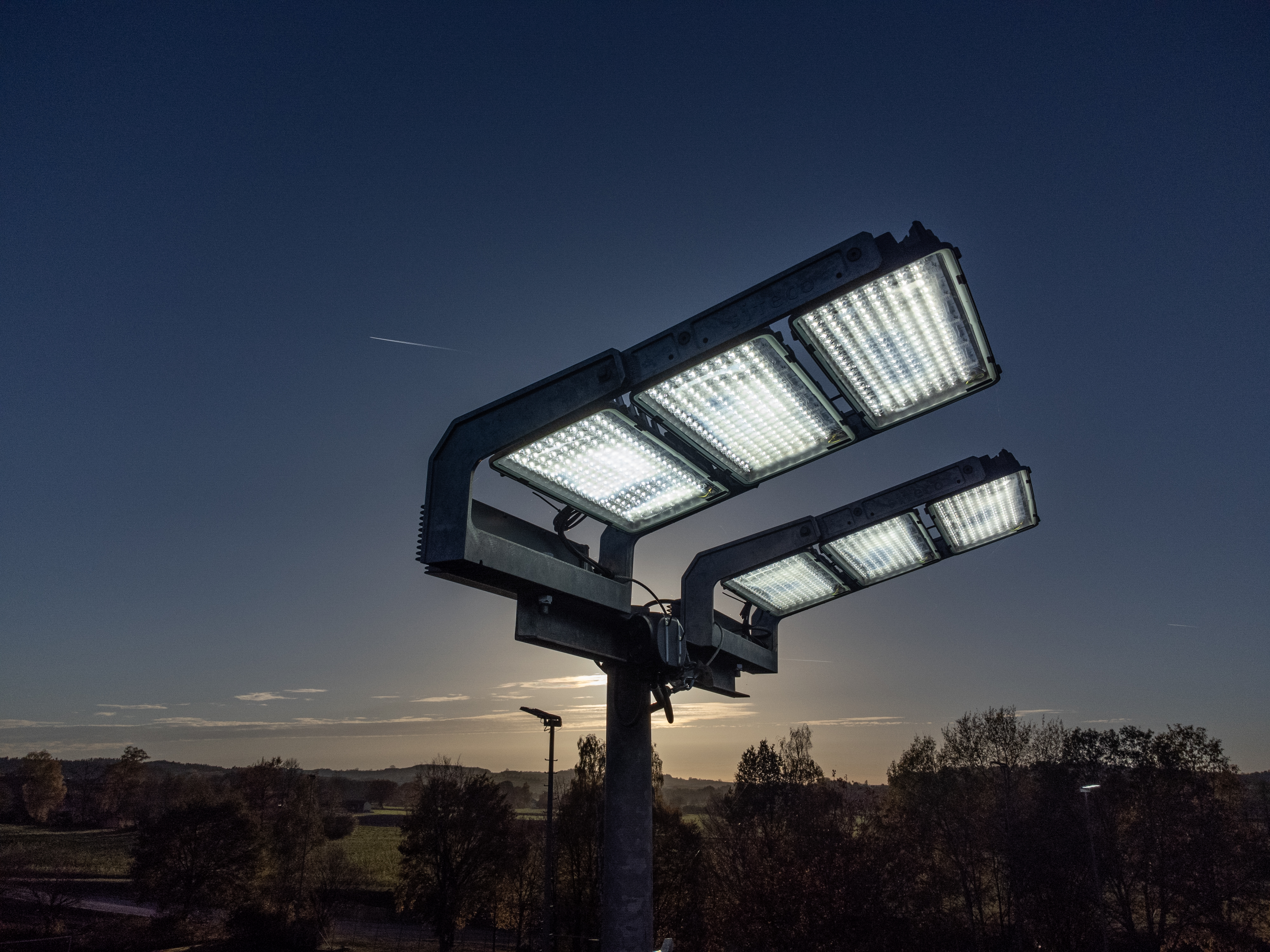 SITECO
Refurbishment of sport facilities
LED floodlight: The right transfer for every club
Saving energy? Absolutely. But cold showers after a workout? That doesn't have to be the case. Because if you invest smartly in new sports field lighting now, you can benefit several times over. And there's money left over for hot water, too. SITECO shows how it's done.
Sports clubs are currently being hit hard. Falling membership figures as a corona consequence and rising energy costs are leading to financial risks for sports clubs. It may seem paradoxical to invest at precisely this time. But this is exactly where many sports clubs find a possible way out of their misery. In times of tight budgets, the issue of lighting offers a powerful lever.
Refurbishment can pay for itself
"When a sports club converts its floodlights to efficient LED technology, this naturally means an initial investment," says Daniel Gandara Gil from the german lighting manufacturer SITECO. "But we keep it as low as possible by combining various measures - for example, by using the existing infrastructure, subsidies and financing models."
It is precisely the current subsidy rate of up to 40 percent together with the saved energy costs of up to 70 percent that make refurbishment so interesting. "In addition, with our financing options, the monthly installments are below the savings achieved. So you save from day one," explains Gandara Gil. And as a general rule, the higher the energy prices, the faster the payback.
The best example is FSV Teutonia Obernau near Aschaffenburg. The club converted its entire floodlight to the Floodlight FL 11 from SITECO in 2022. The treasurer's initial assessment: with each hour of operation, 55 percent of the previous costs are currently being saved. And because the club chose a version in the particularly insect-friendly light color 3,000 K, it was even possible to combine the subsidies from the Ministry of the Environment and the Bavarian State Sports Association.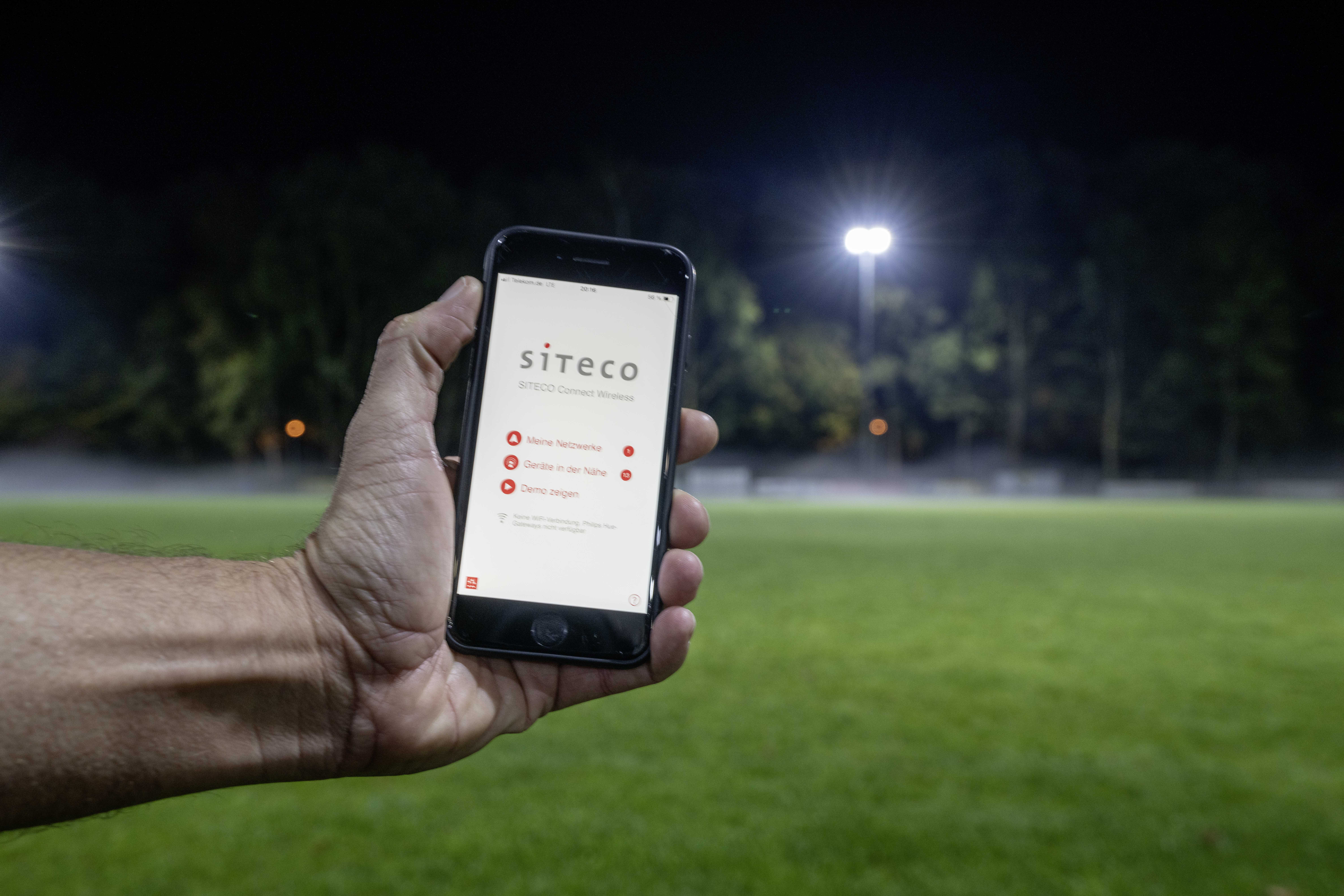 Convenient control increases the savings rate.
If you're already thinking about new floodlighting, you should also consider all the options, recommends Frank Wieland Rödel, sports lighting expert at SITECO. For example, the use of intelligent lighting control. Because do you have to illuminate the whole pitch when training on the small pitch? And do you need the same brightness for fitness training as for a game? "For such cases, we have a smartphone app. It's a simple click for the trainer or groundskeeper, but the savings rate goes way up once again," explains Rödel.
Sounds good and straightforward - and it is. "No club has to be afraid to start a project like this," adds Gandara Gil. "The athletes can focus on their sport. SITECO takes care of the rest." That's because throughout the project, sports clubs have the option of relying on SITECO's expertise and manpower, including applying for funding. Each sports club can put together its own individual package from freely selectable service modules. A refurbishment is then usually implemented within a few months.
Leading the way in environmental protection
And of course, there are reasons for refurbishment that go beyond the hard calculations: LED lighting, especially in the warmest possible light colors, has a much lower attraction effect on insects and has less of a disturbing effect on nocturnal animals. This is an important point, since many sports fields are located on the outskirts of towns and cities, where people and nature meet. For precisely such cases, a maximum of 4,000 Kelvin has been specified as the light color in Germany. Bavaria and Austria go even further and promote only plants with 3,000 Kelvin. No problem for SITECO, both cases are covered.
In addition, modern floodlights such as the FL 11 from SITECO also work much more precisely than predecessor solutions. "They illuminate the usable area exactly - without scattered light and glare for spectators and residents. No light goes into the dark night sky either," says Rödel.
FSV Teutonia Obernau is convinced that they have taken the right step. Good light for the environment, good light for players and spectators - and a good solution for the club's coffers. Gabriele Meister, the first chairwoman, says: "We simply owed it to our active players."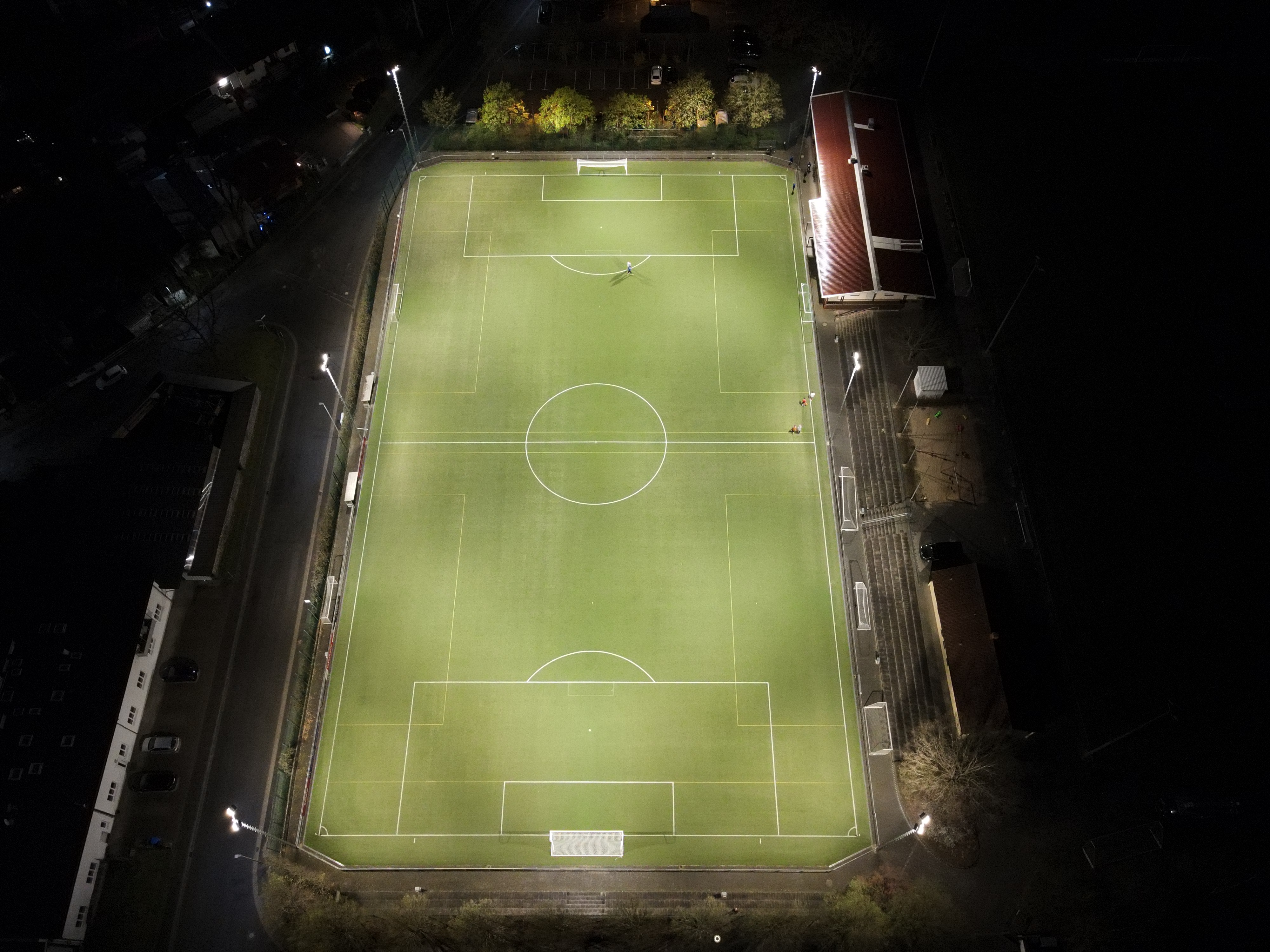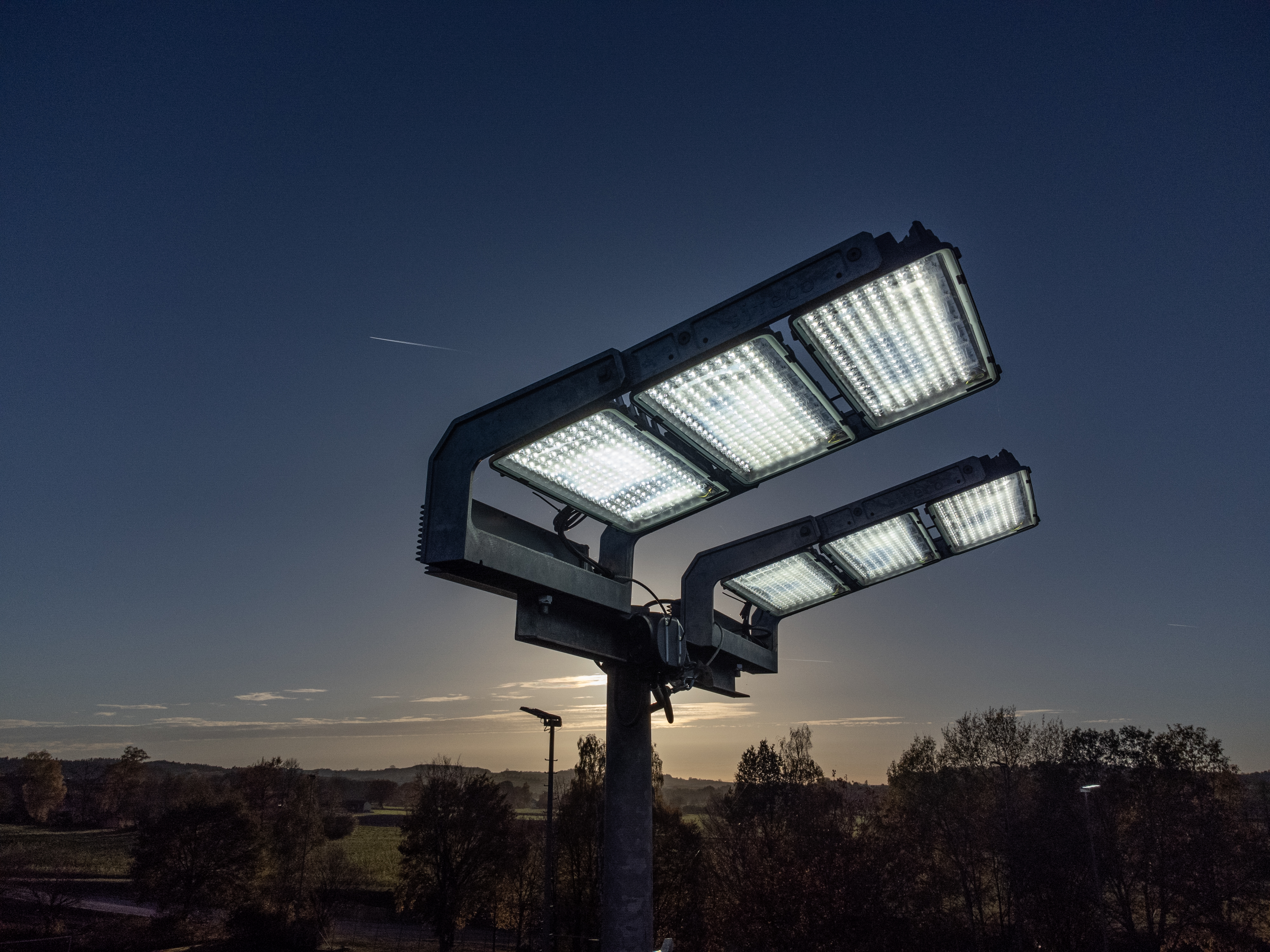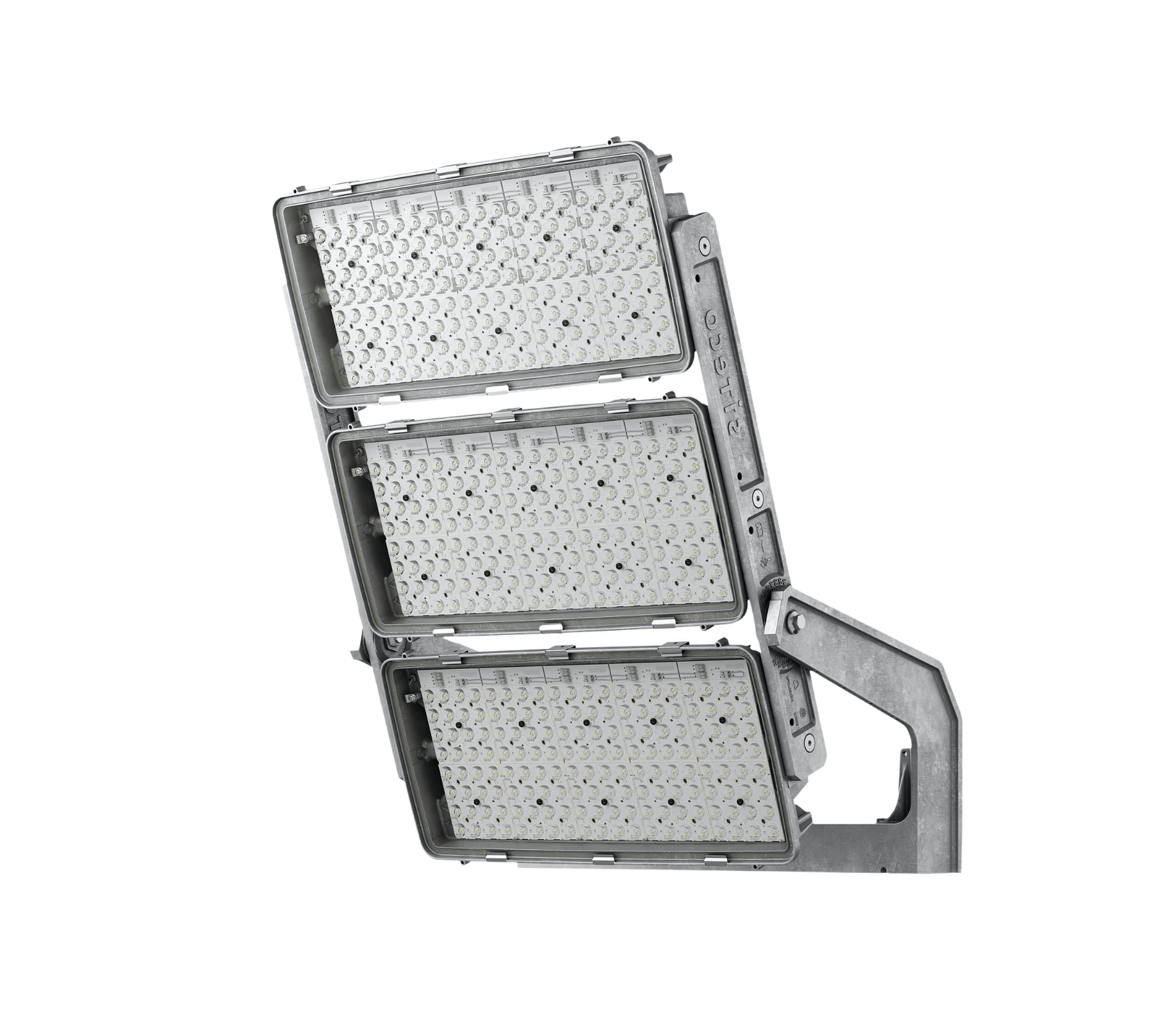 Time to change players!
The right transfer for your club
This transfer really pays off. Because with the FL 11, you replace old solutions, save electricity costs and tons of CO2 from the first minute of play, protect the environment, and remain 100% flexible. And thanks to attractive financing offers and government subsidies, your club can also afford this new addition.
SITECO can look back on more than 150 years of history as part of the German lighting industry and today is one of the leading providers of technical lighting in the outdoor, industry, office and retail sectors. SITECO stands for innovative lighting technology and combined industry expertise — from large-scale volume projects to customer-specific solutions and trend-setting pilot projects. Solutions are compatible with control and data-management systems as well as IoT applications thanks to a comprehensive portfolio of LED luminaires that includes sensors, electronic control components and intelligent light management. This means SITECO provides much more than just state-of-the-art lighting solutions; it specifically offers ideal conditions for simpler, better and safer living and working today and tomorrow. SITECO headquarters houses development and a part of production and is located is the Upper Bavarian town of Traunreut. The company has around 800 employees. You can find additional information at www.siteco.de.