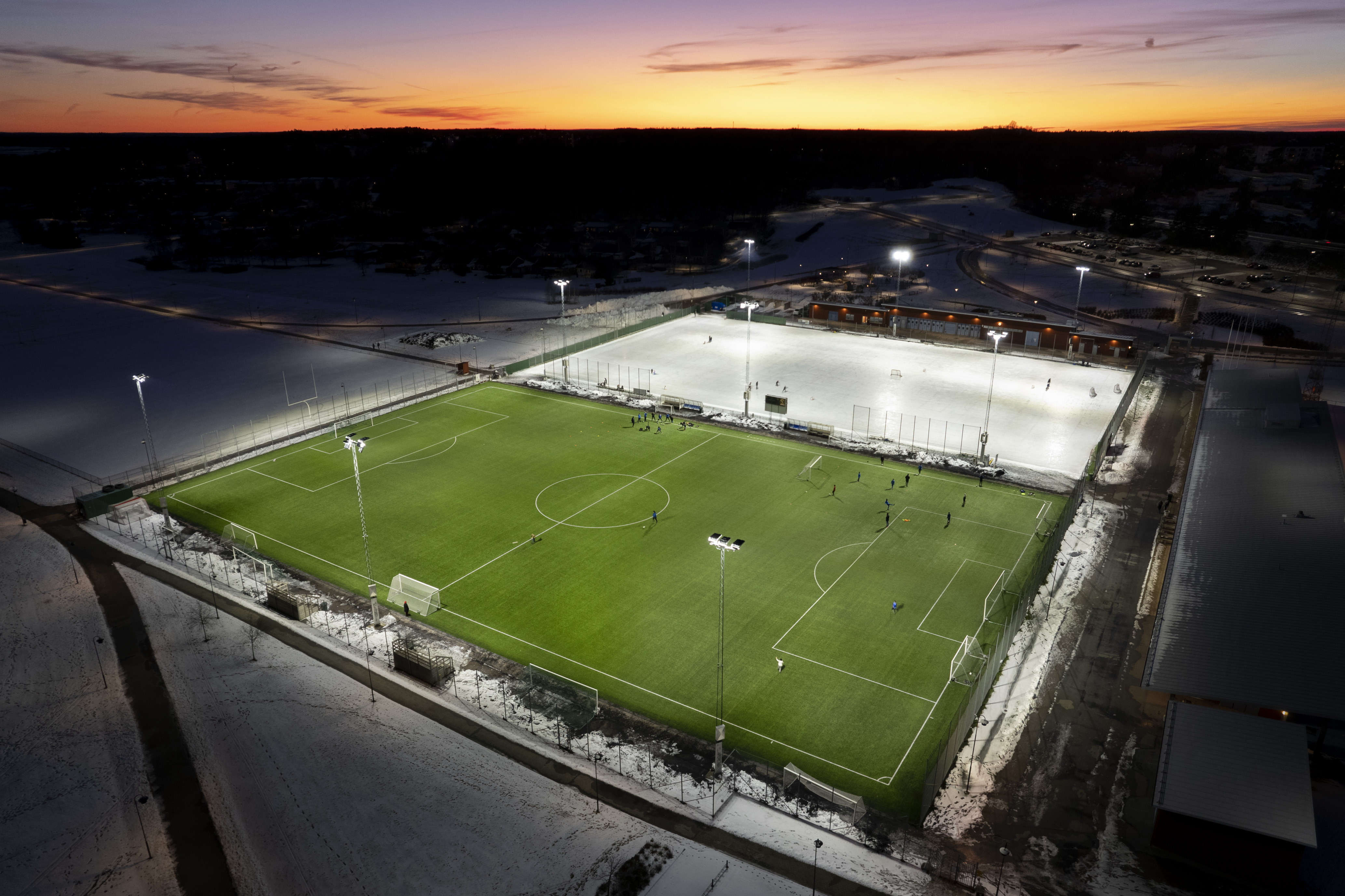 SITECO
Sport facilities put in the right light
Sports facilities put in the right light
With refurbishment, this can be achieved in the shortest possible time
Modern stadiums must ensure high-quality sports lighting that also uses as little energy as possible. However, the lighting in many sports facilities is no longer up to date - with consequences for visual quality and operating costs. The FL 11 maxi pro floodlight from SITECO combines the demands of lighting quality and energy efficiency. And lets the sports facility in Kungsängen, Sweden, shine in the best light.
The faster the sport, the better the light must be. This applies equally to soccer and ice hockey: Here, uniform, glare-free light is crucial so that athletes and spectators can see well and TV broadcasts and slow motion don't flicker. Stadiums, sports facilities and sports fields that still use conventional luminaires can no longer meet these requirements - here, refurbishment of the lighting system is imperative. Those who want to save up to 80% on electricity costs should also upgrade to LED as soon as possible.
The sports facility in Kungsängen, Sweden, was still illuminated with metal halide lamps (HIT/HQI), but the stadium operator was very dissatisfied with the light quality. A comprehensive floodlight refurbishment was therefore urgently required. For Bogfelts, the installation company commissioned, it was clear from the outset that the new lighting technology would be provided by SITECO: both companies have already successfully implemented many sports lighting projects together in Sweden. With the highly efficient and glare-free FL 11 maxi pro LED floodlights from SITECO, the existing masts could be quickly and easily converted to LED. Since February 2023, the sports facility has now been shining in new light, and the result is something to be proud of: Susanne Lindqvist, Head of the Leisure and Sports Department in Kungsängen, personally visited SITECO in Gothenburg - and was more than happy with the optimized light and the good cooperation.
Would you also like to convert your stadium to optimal visual conditions in the shortest possible time and minimize your electricity costs? Then SITECO is the right partner for you - refurbishment in existing buildings is our everyday business. To make the refurbishment cost-effective for you, we use as much of your existing infrastructure as possible. Contact us, we will be happy to advise you!
The best example is FSV Teutonia Obernau near Aschaffenburg. The club converted its entire floodlight to the Floodlight FL 11 from SITECO in 2022. The treasurer's initial assessment: with each hour of operation, 55 percent of the previous costs are currently being saved. And because the club chose a version in the particularly insect-friendly light color 3,000 K, it was even possible to combine the subsidies from the Ministry of the Environment and the Bavarian State Sports Association.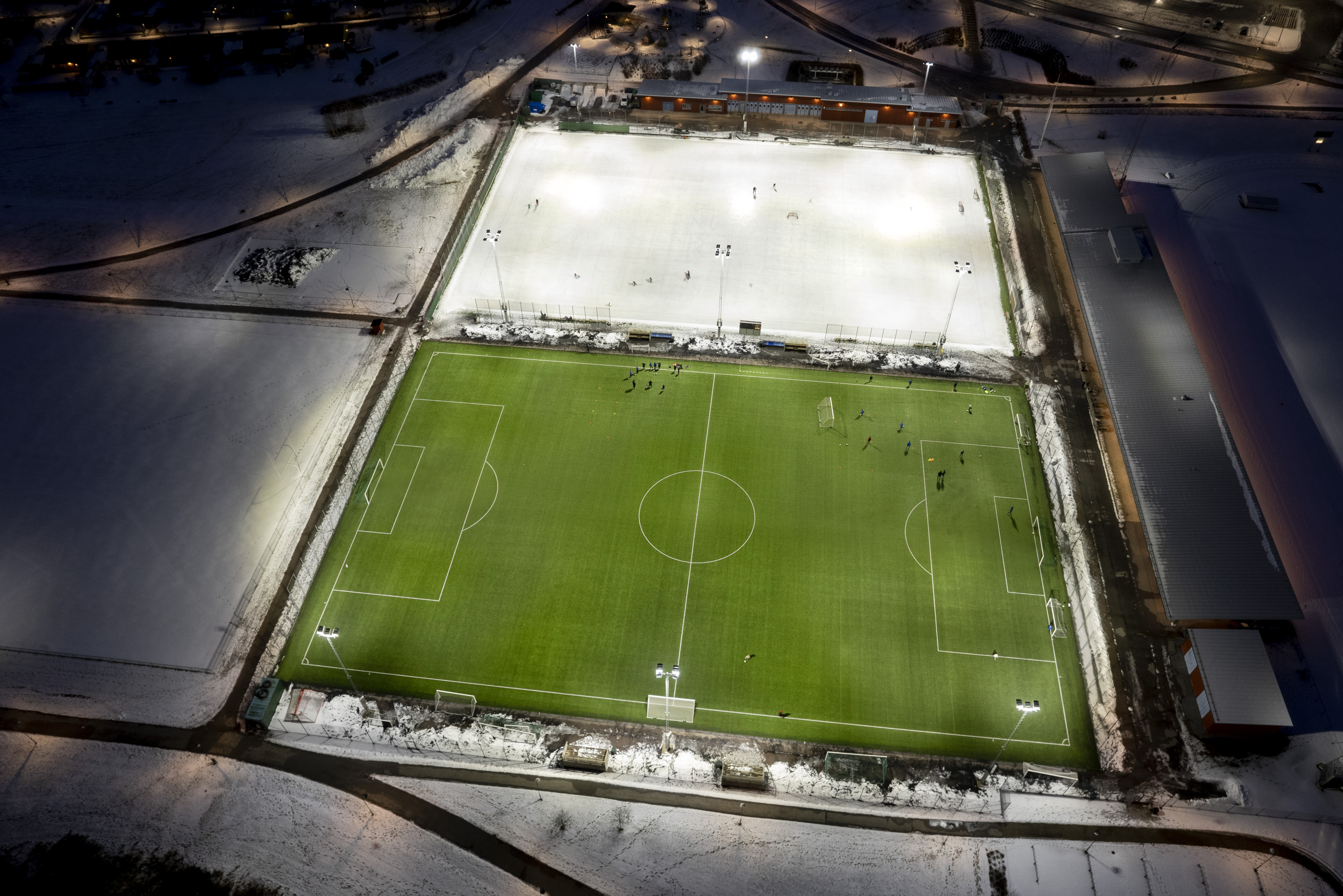 SITECO can look back on more than 150 years of history as part of the German lighting industry and today is one of the leading providers of technical lighting in the outdoor, industry, office and retail sectors. SITECO stands for innovative lighting technology and combined industry expertise — from large-scale volume projects to customer-specific solutions and trend-setting pilot projects. Solutions are compatible with control and data-management systems as well as IoT applications thanks to a comprehensive portfolio of LED luminaires that includes sensors, electronic control components and intelligent light management. This means SITECO provides much more than just state-of-the-art lighting solutions; it specifically offers ideal conditions for simpler, better and safer living and working today and tomorrow. SITECO headquarters houses development and a part of production and is located is the Upper Bavarian town of Traunreut. The company has around 800 employees. You can find additional information at www.siteco.de.