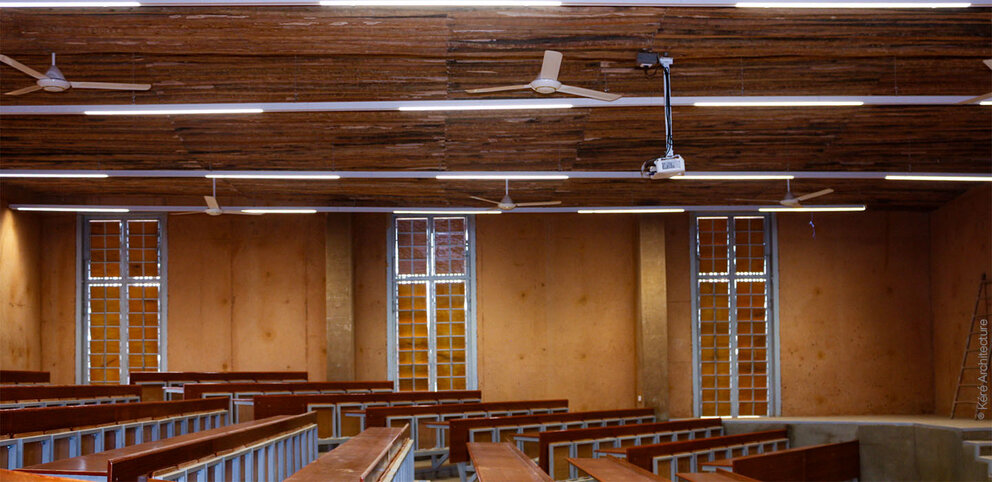 SITECO goes Africa
Best light for the entrepreneurs of tomorrow at the Burkina Institute of Technology
From Upper Bavaria to Burkina Faso: SITECO lighting now ensures the best viewing conditions in the lecture halls of the Burkina Institute of Technology (BIT). With a donation of more than 70 Licross luminaires, SITECO supports the young African university, which has set itself the goal of training the next generation of entrepreneurial leaders.
The BIT was founded in October 2018 in Koudougou in the West African state of Burkina Faso. Currently, about 200 ambitious students are enrolled in the university's Computer Science and Electrical Engineering courses with a focus on renewable energies. In addition to technical content, the curriculum focuses in particular on teaching entrepreneurial skills. "Our vision is to train a new generation of leaders in Burkina Faso. Leaders who can translate their technical knowledge into business opportunities and advance society in this structurally weak country," says Susanne Pertl, founder of BIT. The BIT itself was built according to the plans of Burkina Faso-born star architect Francis Kéré. It combines traditional construction methods with modern engineering technology and integrates fluently and sustainably into the surrounding nature.
From now on, the new Licross® luminaires from SITECO will provide sustainable lighting and maximum visual comfort in the lecture halls. "The new lighting significantly improves learning conditions. After all, light is essential for well-being and thus the basis for a pleasant learning environment," says SITECO Product Manager Werner Rentschler. Thanks to perfect glare control and high luminous intensities, the inserts used are optimally suited for university visual tasks and prevent fatigue. Thanks to its long service life of over 100,000 hours and high energy efficiency, the Licross® rail system, just like the BIT, sets standards in terms of technological leadership and sustainability.
SITECO is very proud to be a partner in BIT's vision and to contribute to improving educational opportunities in Burkina Faso: innovative SITECO luminaires for entrepreneurial thought leaders!