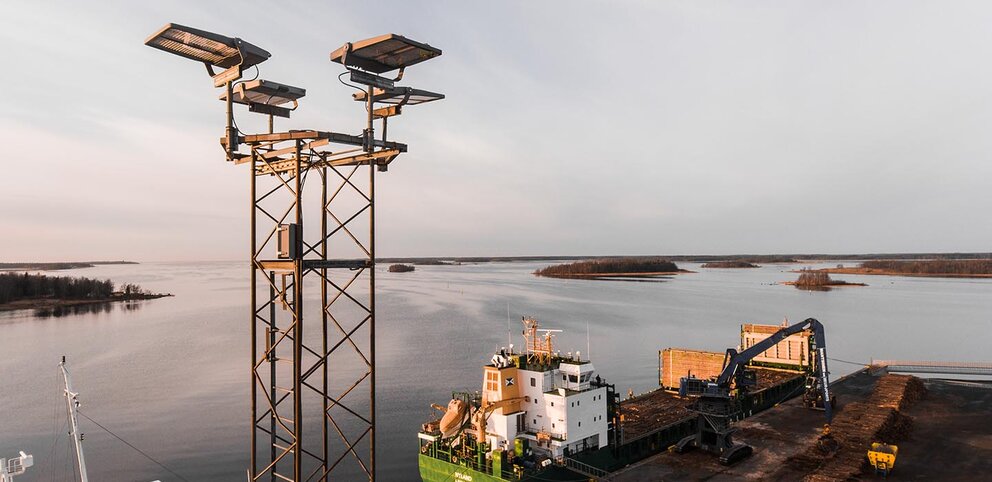 The Port of Pietarsaari, Finland
The Port of Pietarsaari baths in the light even during the darkest season
The Port of Pietarsaari in Ostrobothnia, by the west coast of Finland, is one of the most efficient harbors in the world specializing in the logistics of the wood industry products.

Currently the Port of Pietarsaari is going through a massive lighting renovation: both indoor and outdoor luminaires of the harbor area are being upgraded to the new technology. Improved visibility and safety of the harbor area, longer service life and smaller physical size of the luminaires, as well as energy and cost savings are examples of the requirements set for the new lighting by the Port of Pietarsaari.
SITECO had the perfect solution to match these requirements: the 62-hectare harbor and quay area will be illuminated by 80 Floodlight FL 20 maxi luminaires. 30 SiCompact® midi floodlights will illuminate the paths and warehouse entrances, while about 100 Compact High Bay luminaires will brighten the storage halls.
"We have good experiences with SITECO as a company and with its products. The increase in energy efficiency can already be seen and in the future the Port of Pietarsaari will receive significant savings in maintenance and operating costs", says Björn Walberg, CEO at Sähköpalvelu Walberg Oy.
Johanna Heinoja, Technical Manager at the Port of Pietarsaari continues: "The light provided by the Floodlight FL 20 is much brighter compared to the previous solution. SITECO is a reliable supplier with whom cooperation has been really good."
| | | | | | |
| --- | --- | --- | --- | --- | --- |
| Customer | Location | Products / Solutions | Year | Contractor | Planner |
| The Port of Pietarsaari | Pietarsaari, Finland | FL20 maxi; SiCompact midi; Compact High Bay | Since 2018 | Sähköpalvelu Walberg Oy | SLO, SITECO |